In general, I'm not a sweaty person. But every once in awhile when I get nervous my armpits start dripping. There have been a few things going on behind the scenes of MommyTalkShow.com that have had me nervously, excited too. Can't wait to tell you about it! Stress-sweat and I have had a few interesting meetings in the last few weeks. So I was game to review Secret Clinical Strength Clear Gel, share my experience with you and give you the chance to try your own with a $25 Walmart gift card.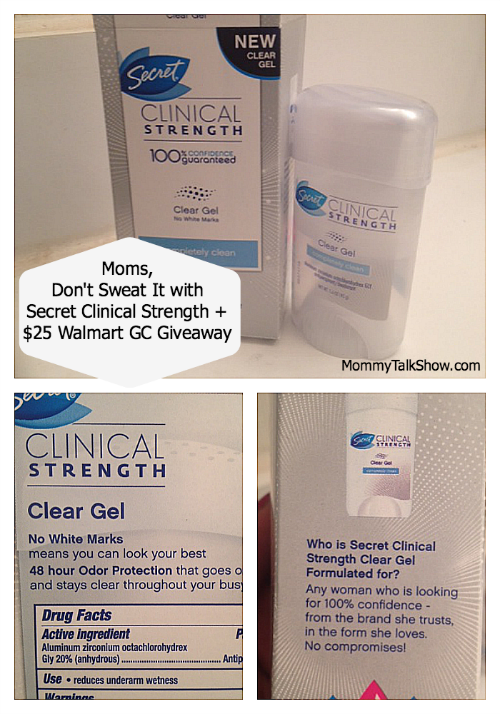 Fun facts: Did you know that stress sweat is smellier than sweat from physical activity? Stress sweat comes from different glands that increase bacteria and odor. Maybe you're like me and making some professional moves that stress you out. Maybe you're planning to get back in the gym for the summer and need better protection. I recommend Secret Clinical Strength Clear Gel and I loved the Completely Clean scent! Other reasons to but
No white marks on your skin or clothes.
You saw on the Instagram video that it goes on smoothly and dries fast.
For sensitive underarm skin, it contains conditioner to smooth skin.
I used the Secret Clinical Strength Clear Gel for the first time last weekend when my husband and I had a date night. (Sorry, no photos. We were just happy to be out at night!) I wore a long black dress and had no white marks on it when I took it off.  If you don't believe me, check out the Instagram video I created showing you how clearly it goes on.
Secret Clinical Strength
Visit  www.nostresssweat.com to learn more about how Secret Clinical Strength works, buy it online (www.Walmart.com)  or in-store at Walmart.
Win Walmart Gift Card
Enter to win a $25 Walmart gift card to try your own Secret Clinical Strength Deodorant by May 9, 2014. You must be 18+ and live in the U.S. Good luck!
a Rafflecopter giveaway