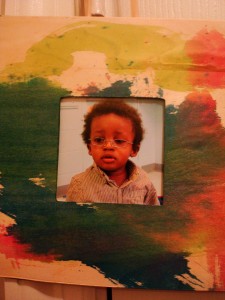 Even though I didn't put up a Christmas tree since we're traveling to my sister's house for the holidays and she's a master holiday decorator, I wanted to show off A.J. Christmas ornaments he made at pre-school.
He painted a picture frame with green and red paint, featuring his photo. I'll bring this with us to hang on the tree at my sister's house.
His amazing art teacher also helped them create Rudolph the red-nosed reindeer ornaments using pantyhose, a wire hanger and red glitter. I would have never thought to do that. There's still plenty of time to make one of your own since the children are out of school this week. This ornament won't travel as well on the flight, so it will have to stay home.
I hope I don't sound weird because I don't put up a Christmas tree. But we've traveled every Christmas and just getting him ready to fly is enough work without adding assembling and decorating a tree to the mix. I'm also trying to make this as much of a stress-free holiday as possible since it's also our family's first Christmas without my Daddy.
Wishing you a blessed and safe holiday season.