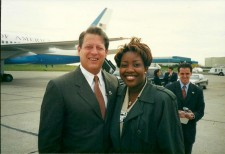 When I was a TV news reporter, I had the opportunity to meet and interview several high profile celebrities like Al Gore on the 2000 presidential campaign. Here we are at the Pittsburgh Airport in 1999.
My Daddy worked with Al Roker's father at the New York City Transit Authority, so I was able to connect with the famous weather guy.
I met Al Roker twice in the 90's – at his office and on the Today Show set.
Check out some of my photos on the Celebrity Run-Ins Pinterest Board. Too bad I didn't have a still camera ready when I interviewed Oprah and met Gayle. But I promise to convert the video file soon to share it with you.
In my post-tv news life I was delighted to interview another former news anchor, Rene Syler of Good Enough Mother at the SheStreams conference in New York.