Meet Candace Woods, a senior at Washington & Jefferson College who's the next Helen Hunt, Kathryn Bigelow or Shonda Rhimes. Candace, remember me when you accept your Oscar! (Remember that time we walked to The Grove?!)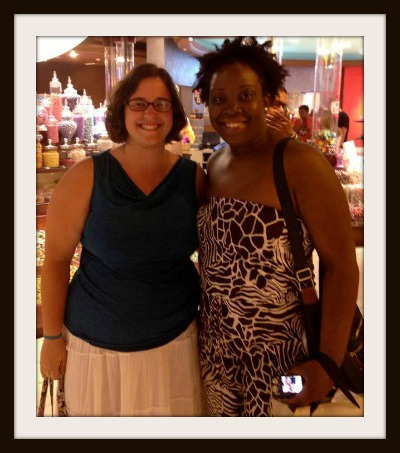 Candace and I were suite mates when I went to Los Angeles for my 40th birthday in August. You may remember all my #FiguringOut40LA videos (they're down below). Guess who shot them for me? Then I returned the favor and shot some for her blog.
What's funny is I'm technically old enough to be Candace's mother. But I did my best NOT to come off too preachy about my experience in TV news when she told me about her TV and film aspirations. Candace was in Los Angeles to shoot a documentary for her capstone project. She'd set up interviews with some major players in Hollywood. I think that takes a lot of guts!
We were so similar and so different. We're both from the East Coast. Candace is into Glee. I'm into Chelsea Lately and TMZ. She was such a trooper because she let me drag convince her along to my celebrity gossip experience.
Candace is an extremely "together" young woman who taught me a thing or two. Yes, even at 40 I can learn from a college student!
Comment below: Have you ever met someone on vacation you stayed close with? (I'm Facebook friends with a woman from Canada I sat next to on a flight!)
#FiguringOut40LA Videos
[youtubegallery]



[/youtubegallery]