Since I only have a son and I was a bit of a tomboy growing up, I'm not really into princesses. Wonder Woman and The Bionic Woman were more of my style.  I don't remember ever wanting to be a princess when I was younger. But I've learned from my friends with daughters that tutus and Cinderella are part of everyday language. If you have daughters, you'll be delighted to hear about the dress-up, tea and adult parties you can host at Olivia's Dollhouse Tea Room Atlanta. There also upcoming events for the holidays, days when school is out and whether boys will enjoy Olivia's too.
Olivia's Parties
From intimate parties of tea for four to a full-blown dress up party for 14, Olivia's is designed to celebrate a little girl's fantasy of being a princess for a day. At a recent grand opening event at the Olivia's Johns Creek location, I got to see all of the fun. Makeovers, face painting and a full-blown dress-up and fashion show were featured.
Check out these professional photos from the event.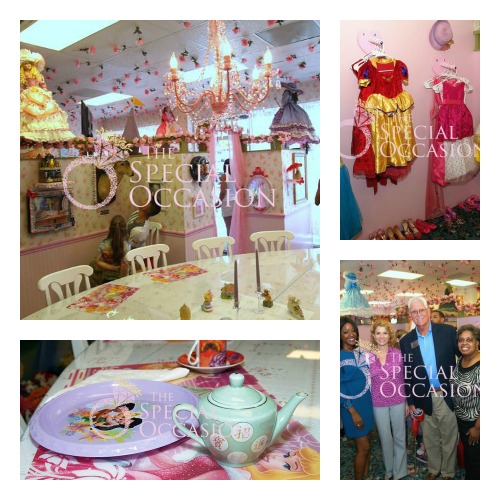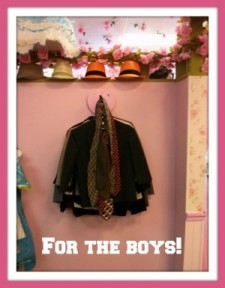 Now let's talk about boys.
Yes, they're welcome at Olivia's Dollhouse.
In fact, there are a variety of suit jackets, ties and hats for boys to dress up. I didn't bring A.J. to the grand opening. But I can see us returning for an event or party.
So you're welcome to invite boys to be guests at the party or enjoy with their sisters. Besides dressing up, boys can enjoy face painting (a mustache or beard would be nice) and rock out to karaoke.
Thanks to Autumn of Classic Mommy for capturing this photo.
The Olivia's Dollhouse Tearoom concept for birthday parties, baby showers and bridal showers was created by a family on the West Coast. There are locations in California, Nevada and now Georgia.
Comment below: Do your daughters like dress up parties? Have you ever attended a party at an Olivia's on the West Coast?
Halloween Event
Olivia's Dollhouse Tea Room Atlanta is hosting a Sweet Treat Dress Up Party for boys and girls ages, three to 12 before Halloween.
It's Friday, October 25, 2013 from 5:30 PM to 7:30 PM
Cost: $30 per child
This event is limited to 20 children. Parents of children under the age of six must stay on-site for the event
RSVP for Olivia's Sweet Treat Dress-Up Party

Visit the Olivia's Dollhouse Tea Room Atlanta website
Like Olivia's on Facebook, follow @Olivias4TeaATL on Twitter and e-mail: [email protected]
Call 404-908-8073
Address: 5075 Abbotts Bridge Road, Suite 500 in Johns Creek
Atlanta Mom Bloggers
See how fellow Atlanta mom bloggers covered the grand opening event:
Disclosure: I attended an Atlanta parenting blogger event.
Olivia's Dollhouse Tea Room is a social media client of MommyTalkshow.com.