One of my favorite places to cool off from the Atlanta summer heat is a family-owned, green, indoor play space – HippoHopp. It's Northeast Atlanta location makes it easy to access from I-85. We've been coming here since before A.J. could walk. One of my mommy groups hosted a meetup there and he's been hooked ever since. Keep reading for how you can learn more about the play space/birthday party venue in an upcoming "All About Atlanta" Facebook chat and win ten (10) visits for your family.
About HippoHopp
Mompreneur Wendy Syed and her family own HippoHopp. She created it for parents looking for a safe, clean and healthy environment for their children to play.
Address: 1936 Briarwood Court NE
Hours: Mon-Thurs 9:30a-6p, Fri & Sat 9:30a-7p, Sun 10a-6p
Prices: Babies one and under are free, one to two year-olds are $5; three and over is $9 per play session.
Café: Find healthy, organic, vegan and gluten-free options in the HippoHopp cafe. There's pizza, fresh vegetables, smoothies and my personal favorite – the turkey burger.
Activities: bouncy spaces, climbing, toys and crawling for the little ones including a private area for breastfeeding moms.
Kudos to HippoHopp indoor playground in Atlanta for providing a clean, quiet place for breastfeeding moms with its "nursing nook."

Posted by Mommy Talk Show on Monday, July 7, 2014
In 2013, HippoHopp sponsored a series of Mommy Talk Show webisodes at its previous Duluth location. We shared advice about work-life balance and easy ways to get our children to eat healthy meals.
We also hosted A.J.'s fourth birthday party at HippoHopp where the children and parents all had a blast. Who doesn't love a party where you arrive to a set-up room, your guests play and eat, then you head home?!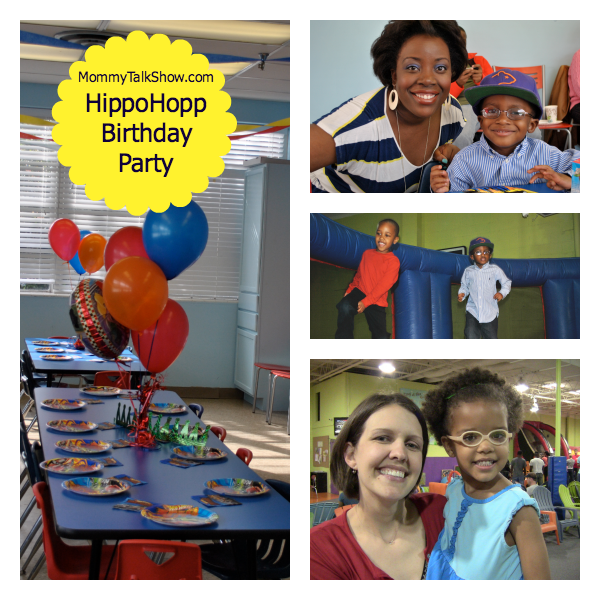 Win Ten Visits to HippoHopp

You're invited to the "All About Atlanta" Facebook chat featuring a live Q&A with the mom owner of HippoHopp. Login using the Facebook app on your phone or favorite device.
DATE: Tuesday, July 14th
TIME:  8-8:45 p.m.
RULES: You must RSVP and participate in the chat to be eligible to win. Interact in a respectful manner with the participants. No links allowed. This chat is not sponsored by or associated with Facebook in any way.
CLICK TO TWEET
Contact Mommy Talk Show to feature your local business on "All About Atlanta" on an upcoming Tuesday night.