That's got to be one of the most morbid blog post titles ever: "Why I'm Considering an Accidental Death & Disability Insurance Policy."
Even though it's not a fun topic, it's something parents should consider.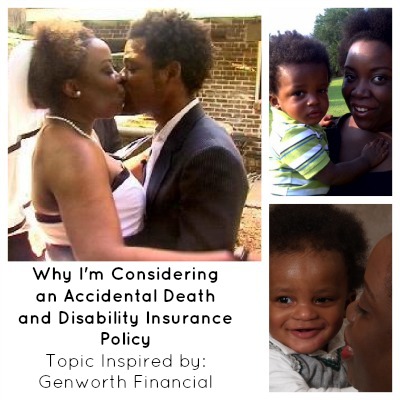 I've shared how I feel like we may need more life insurance especially since I'm a stay at home mom. Even though I don't have comparable income to my husband, my "duties" as a mom would cost him a lot to replace if I died suddenly.

Just as I was having this dilemma, my insurance company sent me a pre-approved policy for an accidental death and disability insurance policy. My husband and I could get additional coverage at a very reasonable rate.
Here's why I'm considering it. We are all healthy. Thank God. But those car accidents you see on the news or read about in the paper could happen to us. Since I don't have an employer, if I was disabled in an accident I wouldn't have any coverage. While I was recovering, who would take care of our son? Who would take care of me?
A recent story in Atlanta that really drove this point home for me was a woman who was hit by a drink driver. Both of her legs were broken, along with other injuries. The woman was unemployed and due to mounting medical bills she had to move in with her parents.
Have you asked your insurance agent about accidental death and disability protection?
I'm going to do some more research to see how the rates and restrictions compare to the offer I received.
My recommendation: start talking life insurance and your coverage needs as you get married, move in together or start your family.
Disclosure: This post and background material are presented by Genworth Financial 
where you can learn more about mortgages and planning ahead for your family's future. 
All thoughts & opinions are 100% my own.