Every morning I face a big decision –  make up or no makeup?  In a post-mommy world of working at home, I'm more inclined to to with no makeup because I don't have to worry about sweating it off or my son wiping most of it off. Then there's the time it takes to put the makeup on. Even my five minute face seems like a lot when I'm rushing to the car pool lane.
But there's one person who's changed my opinion of what real beauty is – my four year old son. You may think it's pretty easy to sway the opinion of a child in pre-k, but A.J. has strong opinions. He has a few girls he "checks out" along with his favorite female celebrities.
Real Beauty
Whenever I put on a dress and put on makeup (usually for church or an evening event) it's almost like he senses that I've stepped up my game and the compliments start flowing:
"Mommy, you look beautiful!"
"Momma, I love that dress!"
"Mommy, is that the latest fashion?"
It's like he senses that I need the reassurance before I head out into the world that can be so harsh for women – or even worse – we are so hard on ourselves!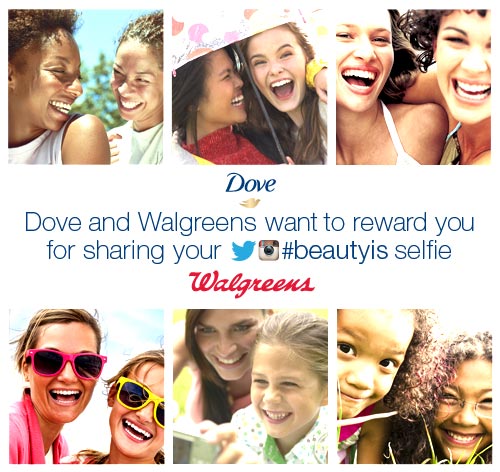 #BeautyIs
Dove and Walgreens are committed to building positive self-esteem and inspiring all women and girls to reach their full potential and acknowledge that beauty is defined in many different ways.
One way Dove and Walgreens is through a popular form of sharing on social media. Selfies. Everyone with a camera phone is doing it, but the motivation behind posting a selfie is usually self-serving. Walgreens and Dove want to encourage women and girls to use their selfies for good and show what #BeautyIs, means to them with any type of picture below.
• A self-portrait that captures your natural beauty
• A picture that shows you sharing a positive moment with someone else
• An image that shows you giving back
• A picture that portrays your overall personality
It's easy to participate. Just share what #BeautyIs to you on Instagram or Twitter. Visit DoveShareYourBeauty.com to see what other women are sharing.
Comment below: How do you inspire and encourage the women in your circle? For the parents, how do your children see and define beauty?