My Father passed away before our son A.J. turned 2 years old. We talk about Granddaddy all the time. His pictures are around our home. But it saddens me that A.J. won't have any memories of him or learn from him. Thanks to Wells Fargo, we are featured in a video where I share the challenges of teaching our son about segregation his grandfather endured.  It's an untold story, but similar to so many African Americans who grew up during the Great Depression and Jim Crowe era, like he did.
I'm sharing how my Father endured discrimination while growing up in Charleston, South Carolina in the 1930's and 40's. My Father attended segregated schools where he told me what it was like to read from tattered, old books white students had used years ago. Hear how my Father's early years of segregation are so different to A.J.'s life here in Atlanta. Our son has attended several diverse preschools with children of all colors, religions and backgrounds. It's something my Father probably dreamed of us a child, but never experienced himself.
My Father's Untold Story
http://www.youtube.com/watch?v=Ej1lQMQ5sHM
We shot the interview at the Arnika Dawkins Gallery in Atlanta. It was an amazing backdrop to show A.J. the work of Gordon Parks that reflects the era his Grandfather lived in. The playground photo, more than anything else, encapsulated the segregation my Father endured when he chose to watch baseball games from a tree, instead of sitting in the colored section of the baseball stadium.
The Kinsey Collection
I was recently introduced to The Kinsey Collection: Shared Treasures of Bernard and Shirley Kinsey – Where Art and History Intersect. It's a traveling art exhibit that's been on national and international media. The Kinsey Collection is also part of a national tour presented by Well Fargo Bank to mark the 150th anniversary of the Emancipation Proclamation. There's also a 198-page coffee table book with images from the art collection.  It's filled with untold stories of Black history with paintings, documents and artifacts from Africa, Europe and the United States. You may recall the video I shared featuring actor Lance Gross and the first African Americans to serve in the U.S. Congress. Without them, we may not have had an African American president.
My Father's Untold Story could have been a part of the Kinsey Collection.  After his military service ended, he moved to Harlem, NY. Although he hoped the North would be more welcoming of Negroes, he told me the racism he encountered in the 50's was more covert or undercover.
Comment below: what is your family's untold story of life in U.S. or your country of origin?
Thank you, Wells Fargo for helping share my Father's untold story to create this video memory for our son.
Wells Fargo also presented other Kinsey Untold Stories on YouTube that would be great to share with your family. It's a short film series featuring celebrities and African American bloggers. Also visit the Kinsey Collection page by Wells Fargo.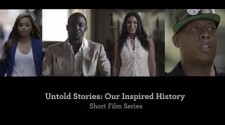 Disclosure: This post is sponsored by Wells Fargo. As always, thank you for reading our blog and supporting our sponsors.