Instead of hitting to road, we chose a fun week of staycation activities for Atlanta's Spring Break. Among our stops was the Rio 2 movie featuring Bruno Mars, the Bio Bus by Georgia State University at the West End Library and we rounded out the week by visiting the Georgia Aquarium. We brought along our friends and shot this video showing some of the fun for preschoolers at the Georgia Aquarium.
This is (at least) our sixth visit to the Georgia Aquarium since A.J. was born and each time he seems to focus on something new. For Spring Break he was captivated by the interactive monitors and the environmental lessons we learned from a Georgia Aquarium Volunteer.
Tweet to share:
Watch @MommyTalkShow Video of Preschoolers having fun @GeorgiaAquarium for #SpringBreak or #Staycation Idea: http://t.co/Ct2Si5vwIG

— Joyce Brewer (@MommyTalkShow) April 17, 2014
Our family has visited the Georgia Aquarium several times and even had an annual membership with our AAA discount since it costs about the same as a few family visits. Buy your tickets or membership online at GeorgiaAquarium.org. We've also been invited to events including the Percy Jackson DVD release event.
Check out this video from A.J.'s conversation with the Deep Sea Diver at the Georgia Aquarium when he was just two!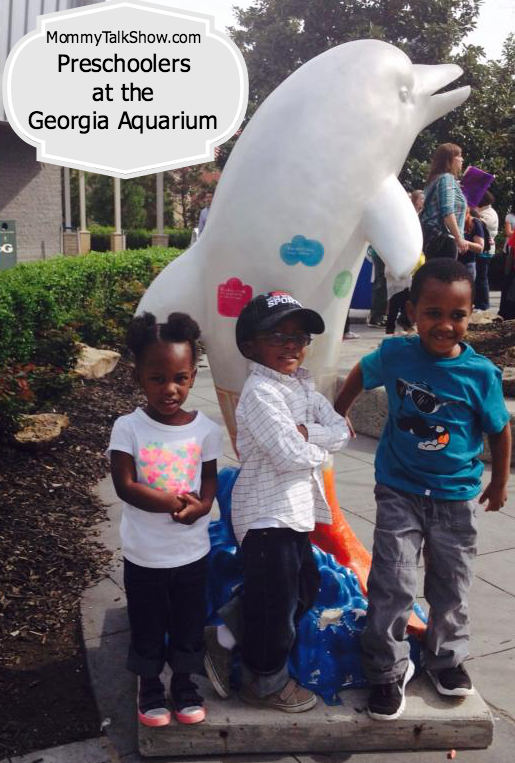 Pre-K Visit to the Georgia Aquarium
We met a school tour from Alabama during Spring Break when we ate lunch outside in the green space between the Georgia Aquarium and the World of Coca-Cola. School tours are a huge draw and even pre-k students can get a behind the scenes look at the world's largest aquarium. Did you know even Pre-K classes can arrange Instructor-Led and Self-Guided private tours?
I'd love for you to check out my Pinterest Board: Toddler Fun in Georgia with other local attractions you can have fun with your early learner.
Follow Mommy Talk Show's board Toddler Fun in Georgia on Pinterest.