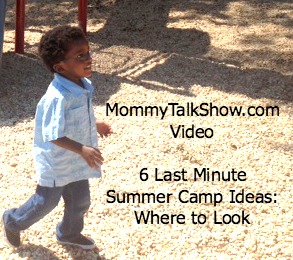 If it's mid-summer and you still haven't signed your children up for summer camp, you're not alone. I've got six last minute summer camp ideas and details on where you can look for opportunities to register. Many of them are places you might not have thought about looking. With a few online searches or phone calls, you may be able to find  a camp that's a good fit for your family.
Remember, since you may have missed the major deadlines you'll need to be flexible and open to the camp's guidelines.
I found a summer camp for A.J. at an Atlanta preschool we're considering. It's a little further than I'm used to driving, but it's budget-friendly and he can attend for an entire week. There are a few more camps I'm looking at for a week to week basis before we make a decision for the Fall.
Video: Last Minute Summer Camp Ideas: Where to Look
Here are three more last minute summer camp ideas, besides the ones I listed in the video.
Indoor play spaces.  Sensations Therafun is an indoor activity center in Atlanta with attention to special needs and learning differences. It offers sports camps and drop-off opportunities year-round.
Art and music schools. I've noticed an increase in art and music schools that have summer camp opportunities. Some allow you to register per day or per week. Location sponsor, the Main Street School of Art in Downtown Tucker offers art summer camps.
Museums and aquariums. History centers, museums and aquariums offer summer camp options, usually starting at elementary school age. The Georgia Aquarium has an H20 Summer Camp for members and non-member. There's even a special needs camp option.
These same tips can be used to find Spring Break camps where you live too.
Do you have any other recommendations on finding last minute summer camps?
For 2015, here are some Atlanta Summer Camps for 5 Year Olds and Up.