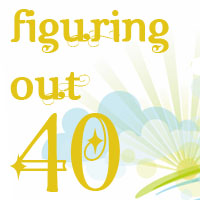 For those who've been following the Mommy Talk Show Facebook page, I've shared a little bit about #FiguringOut40.
My 40th birthday is one month away and I've been going through a bit of an emotional roller coaster about it.
This first #FiguringOut40 explains why. I hope you tune in each Sunday for a new video. Get each new talk show topic in your inbox by subscribing to Mommy Talk Show RSS feed.
Video: Introducing #FiguringOut40
Comment below
How has getting older affected how you feel about yourself – emotionally, physically and emotionally?
Have you heard other women complain or lament about getting older? How can we support each other through this journey?
#FiguringOut40 Twitter Chat July 21, 2013
Therapist Thommi Odom will answer questions on Sunday, July 21st from 9-9:30p EST in a #FiguringOut40 Twitter chat. RSVP on the Mommy Talk Show Facebook event for updates.
Sponsor Figuring Out 40
If your brand or business has a product or service that would be ideal for women 35 and over, I'd love to talk with you about a partnership.
This can include
Professionally produced video review or online commercial.

Live, interactive chats  with moms on the

Mommy Talk Show Facebook page (2,300 fans) or with @MommyTalk Show  (4,800 followers) answering moms' FAQ's.
Hosting the show on-location and inviting Atlanta moms to your business.