I wrote this review while participating in a campaign for Mom Central Consulting on behalf of Wet Ones. I received free admission to Six Flags, attended an informational and complimentary luncheon, and received a gift bag and promotional item to thank me for taking the time to participate."
As the Mother of a three year old boy, there are countless sticky situations A.J. gets into when we're on the go.  We recently visited Six Flags over Georgia for the first time and I'm grateful there were Wet Ones antibacterial wipes handy when we rode the rides in the park and ate lunch.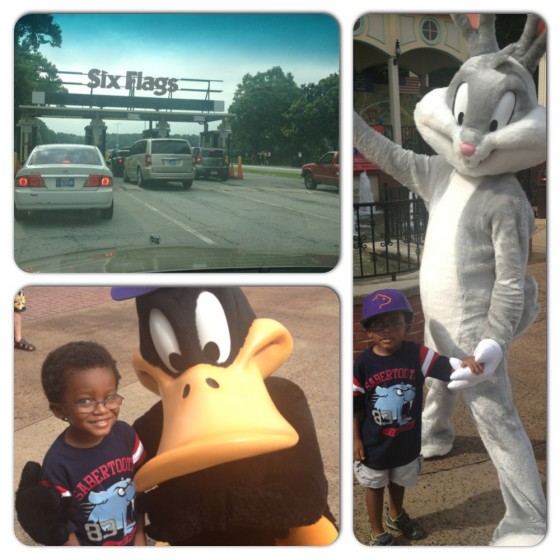 We started the day by meeting the Warner Brothers characters near the Six Flags Over Georgia entrance. They were happy to take photos with the little ones. Daffy Duck even borrowed A.J.'s favorite purple baseball cap hat when we snapped a few pictures. I don't think A.J. recognized him, but he's the type of toddler who's very social. Costumed characters are his favorite anytime we're out at kid-friendly events.
On the flip side, he's not as adventurous when it comes to rides. So we had to stick with the Six Flags rides that are lower to the ground and don't move too fast. After a two train rides, A.J. was ready for lunch. Two of his favorites were on the menu – chicken fingers and pizza (I pulled the cheese off his slice due to his milk allergy). Wet Ones antibacterial wipes which kill 99.99% of  bacteria were handy by the buffet table.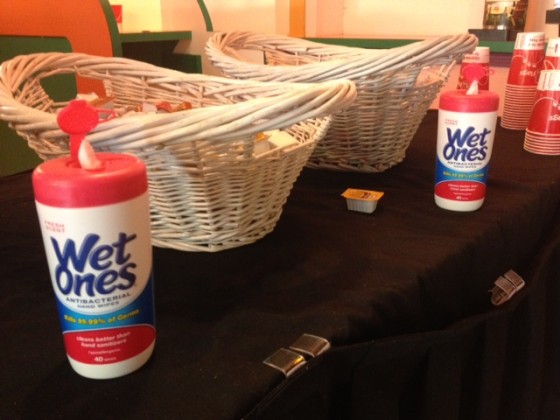 In true toddler boy fashion, after I'd cleaned him up from lunch he decided to play with the trash can and swing it back and forth. I grabbed some more Wet Ones for his hands before we hit the playground.At the playground, Six Flags Over Georgia provided us with another snack – cotton candy and popcorn. But before I let him dig in, I used Wet Ones on his hands again.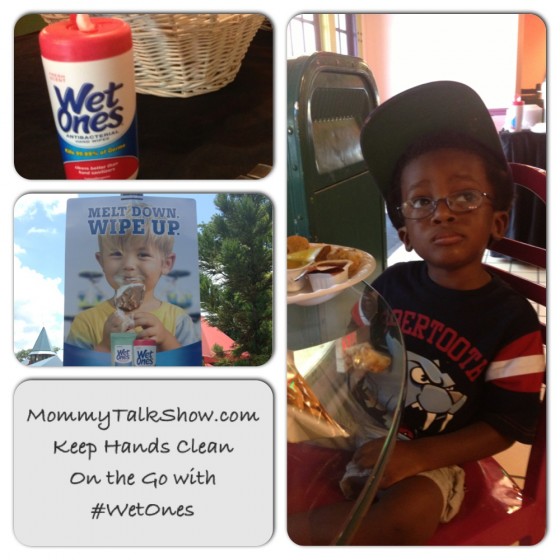 During our vist to Six Flags, we used Wet Ones antibacterial wipes
1. before meals/snacks
2. after meals/snacks
3. after A.J. touched the trash bin repeatedly
Do you keep Wet Ones handy when your family is traveling?
What are the sticky situations where you've used them?