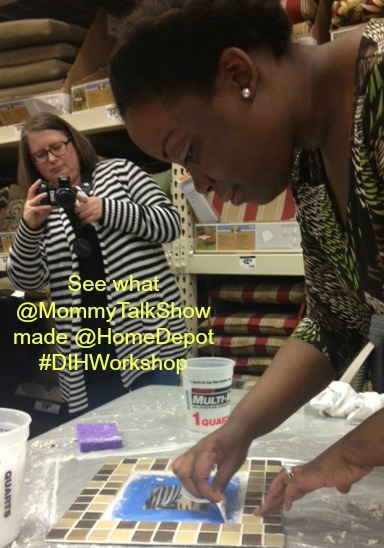 The third Thursday of the month you're invited to the Home Depot #DIHWorkshop (do-it-herself) for women around the country. I just attended one at the Home Depot on Cumberland Parkway in Atlanta. We created a Tiled Frame Mirror Project which was a stretch for me because I'm not a do-it-herself kind of mom.
My Home Depot #DIHWorkshop Team
I was smart enough to bring around my friend Michelle (@wefit2029) who is a hands-on chick. Seriously, she refinishes furniture and fixes a lot of things around her home. Michelle epitomizes #DIHWorkshop and was excited when I invited her to Home Depot.
I also met one of my blogger friends in real life for the first time – Angela (@aboutamom) from About A Mom. She was just as sweet in person as she's been when we've exchanged e-mails, tweets and Facebook messages. Angela's "wing woman" was her sister Chrishelle from (@cheermamadrama) Cheer Mama Drama who was super hands on. Wait until you see what we teamed up to make!
Watch the #DIHWorkshop Video
Here's the final project we did in less than an hour. Chrishelle got to take it home. Throughout the project she talked about tiling the backsplash at Angela's home. Michelle was blown about by the adhesive Home Depot sells that makes it super simple for the tiles to adhere.
Would you try this mirror mosaic on your own? When it's done, where would you hang it?
For me, it was a cool way to hang out with my girlfriends and get my hands "dirty." Considering how the most do-it-herself thing I've ever done was paint my office at the University of Missouri-Columbia a bright orange, I may try this project on my own one day.
See how to do it for yourself on the Home Depot #DIHWorkshop Pinterest Board.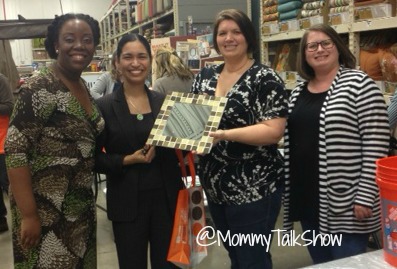 Share, tweet, like this story so your friends can see it and find out about the Home Depot event!
Disclosure: This is a sponsored post on behalf of Home Depot Store 121.
All thoughts and opinions are my own.