I'm a bit conflicted about sharing the video of our experience at the Doc McStuffins Mobile Clinic in Atlanta. Our total experience from start to finish took almost fours. But sadly, so many of our Atlanta friends were there much longer and/or didn't get a photo with Doc.
Watch the video, then I'll share how parents can voice their concerns with Disney Jr., so hopefully the upcoming visits around the country will go smoother. Update: See the response from Disney Junior below.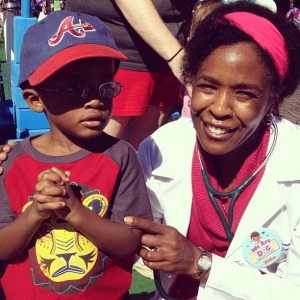 A lovely addition to the event was that we met members of Artemis Medical Society. It's a medical society for African American female doctors. They were so patient with the children.
Thousands of families descended on Olympic Centennial Park for the event.
Every Disney representative I met was courteous and helpful. But to say they were overwhelmed by the crowd was an understatement.
I had no idea Doc McStuffins was this wildly popular. We just started watching her DVDs and shows a few months ago. A.J. is officially smitten with her. I don't think it has anything to do with skin color, but the fact that Doc is caring and her friends are funny. He laughs at the same episodes over and over.
Doc Mobile Tour Dates
There are at least three more upcoming Doc McStuffins Mobile Clinic events around the country for Fall 2013. Here's the Doc McStuffins Mobile Tour Schedule:
Washington, D.C. – cancelled due to the Navy Yard shooting
Tuesday, September 17th 10:00am – 4:00pm 
The Yards Park
Los Angeles, C.A.
Thursday, September 26th 10:00am – 4:00pm
The Grove
Phoenix, A.Z.
Saturday, September 28th 7:30am – 3:00pm
Confusion at Atlanta Experience
There were at least three separate lines at the Doc McStuffins Mobile Clinic Experience in Atlanta.
A line for a wristband for an assigned entrance time.
An entrance line to see the mobile clinic.
A final line for a photograph with Doc McStuffins.
The wait times were several hours. Friends who arrived at 10:30 a.m. were given wrist bands and report back times for approximately 3 p.m. for entrance to the exhibit. For toddlers, that's hard to grasp that you see Doc McStuffins pictures and promotional items everywhere, but you must come back hours later to see her!
Atlanta families, here's a way to send your feedback to Disney Jr. via this contact page.
Dear Disney Jr.:  We had fun. But I think there could be a few ways to streamline the process for future mobile clinic experiences.
Have more than one Doc McStuffins character/costume so her 30 minute breaks can be shorter or eliminated all together.
Have a concert with the other characters on the show to keep kids happy while they wait on line.
I stood online for more than 90 minutes A.J.'s photo with Doc. Thank God I had my Graco Jogging Stoller and his lunch packed.  But we got about 45 seconds with Doc for him to hug her and take a picture.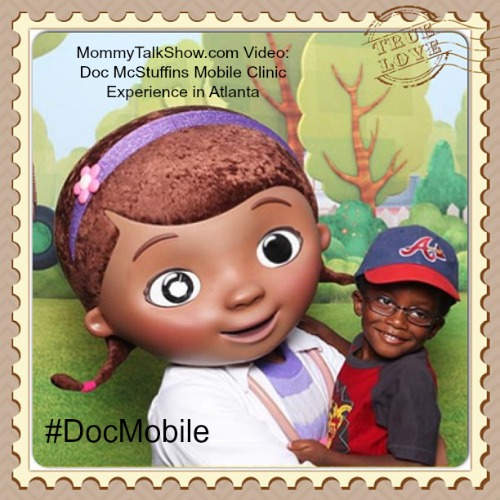 As a parenting blogger, I was allowed to have VIP/media entrance. But at least three of my Atlanta friends waited for more than five hours to get through the experience. They all left without photos with Doc McStuffins because the line was too long and Doc left the photo booth around 4-4:30 p.m.
For parents who plan to go when the Doc Mobile tour stops in your city, pack your patience. Arrive early and plan to stand on line for awhile. Bring food for your kids to eat while you wait. If there's a park or restaurant nearby, go there and come back to the Doc Experience at the assigned time for your wristband.
Update: Disney Junior Update
Thank you for your feedback about the "Doc Mobile."  We are glad that many of you had a wonderful time at the event and sincerely appreciate the frustration felt by those of you who did not have an enjoyable experience.  We want you to know that your suggestions have been heard and we value the trust you put in our programming and related initiatives.  We applaud the active role that you take in your children's entertainment experiences, and again thank you for your feedback.