The pain of Black motherhood was just captured in a series of poignant interviews I wanted to make sure you didn't miss. There days when raising Black children and daughters in 2020 doesn't feel any safer than it did in 1960. When the police shootings of unarmed Black people come across our TVs or devices, it hits your heart a little differently when you're a Black mother. While the new interviews I've shared below focus on Black mothers, the loss of these lives affects their entire families. Think about their children, neighbors, extended family, co-workers, and significant others. Tell me what you think in the comments so I know if you'd like to see more of this timely content or suggest something else.
Black Mothers Matter
Last month, I was asked to contribute my voice to a project by Atlanta Parent Magazine for the July 2020 issue.
"A Conversation on Race: Voices from the Heart" included my experience raising A.J., along with contributions from two other well-known media moms in Atlanta: Maria Smith from Mamalicious Maria and Sojourner Marable Grimmett from Married with Two Boys.
If you're in the Atlanta-area, I hope you pick up a copy of the magazine to read what we experience daily and our recommendations for parenting during the age when policing the police and protests force us to have very tough conversations with our Black children.
You can also ready the Atlanta Parent Magazine July 2020 issue in a digital form. Our experiences are covered in three well-thought-out pages. There are two additional pages of parental perspectives that cover discussing race at home on your children's level.
While I was delighted to be a part of this conversation at this timely moment about race and policing, I hope Atlanta Parent Magazine makes a commitment to tackle all the layers of this discussion monthly. From the '60s to now, Atlanta has been at the forefront of civil rights. They apply to everyone or every race.  While Black residents make up the majority of the city and several Georgia counties, Latino and Asian communities need their most pressing issues covered too.
New Mothers of the Movement
This morning, Good Morning America's Deborah Roberts covered a story in a way I've never seen before. She interviewed the mothers of Ahmaud Arbery, Breonna Taylor, Trayvon Martin, Tamir Rice, Eric Garner, Antwon Rose and Botham Jean. It was one of the most painful, raw interviews I've ever seen because their losses were sudden, shocking and in many cases – recorded. In far too many of their experiences, no one has been arrested or served time for their child's death. It's a little less than seven minutes long, so please set time aside to devote your attention to it.
Watch: What does it mean to be a Black mother in America?
Although I wasn't happy with the way the story aired this morning, went immediately to a brief thank you to Deborah for her report, then straight to a commercial break, followed by an in-depth look at a less significant story  – menswear while working from home – GMA devoted more time to these mothers on their other social channels. Their team created this lovely artwork with memorable quotes: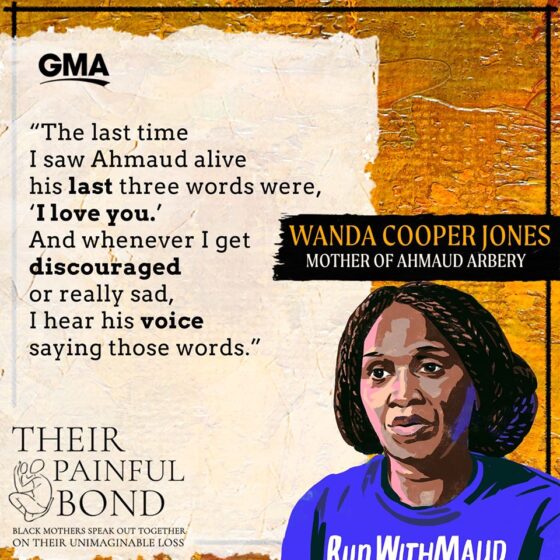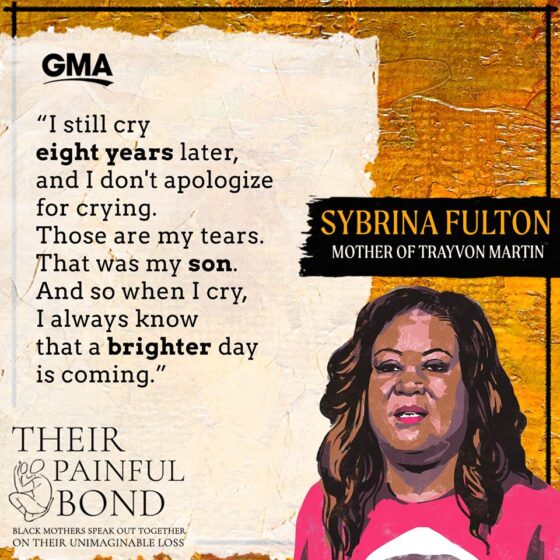 These women share the same unimaginable pain that the rest of us get to step away from. For them, it's an around the clock reminder that their children were taken away suddenly with little or no justice. I can't imagine what birthdays, holidays, or family milestones are like without their children.
Good Morning America has a total of nine in-depth interviews with these mothers of the movement on its YouTube channel.