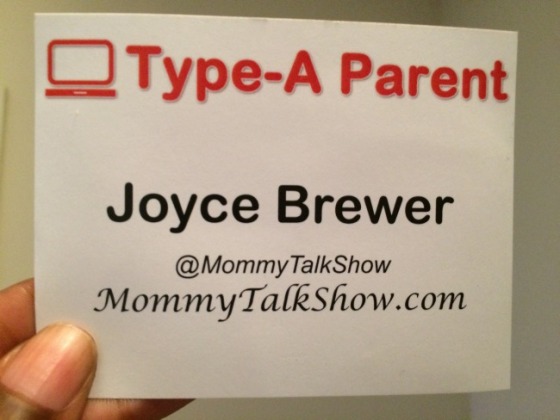 I just returned from the Type A Parent Conference 2014, which is one of the largest parenting blogging conferences in the country, but I didn't have to travel very far. The conference was at the Grand Hyatt Buckhead in Atlanta, which is less than six miles from my house.
As a second year attendee, I wasn't sure what to expect. I was able to attend as a partner in return for volunteering on-site and promoting the conference to my audience. I knew my time would be split between volunteering to help the organizers, checking on A.J. at the Kids Conference, and returning home at night.
Overall, I had a very mixed experience and found my mind wandering all over the place during the event. So here are my 30+ Thoughts About #TypeACon and I reserve the right to go back and add a few more.
Be warned. I think and overthink a lot.
Last year's conference at The Westin had a more professional feel with better multimedia screens and audio. I liked the larger stage and set-up better in the Grand Ballroom last year.
Some of these speakers presented last year.
Fadra @AllThingsFadra is good people. She's the same online and she is IRL. Glad I got to meet Kelly from @centsiblelife too.
We are having a great time at my table. These chicks are crazy – in a good way.
This feels like a blogging reunion not a conference.
Every time this conference comes to Atlanta, I juggle home and conference duties. Next year, I'm not doing this. Maybe we can do a family staycation at the hotel.
A.J. had a blast at Kid Con where we could play and eat lunch on-site. Thank you Type A for realizing parents need this to attend conferences!
The We Still Blog awards needs to be at the beginning of the conference. We all need to hear these types of stories that captures the essence of why we blog. The stories were moving. Maybe I'll submit a post next year.
I wonder what I'll submit as a speaker topic for myself next year.
This audio is horrible. I can barely see the small screen on the left side of the ballroom and I'm sitting on the left side of the ballroom.
These roundtable discussions could be so much better with a handout or outline vs. a chat fest where you can barely hear the speaker.
I wonder if VIP was worth it? Maybe I should upgrade next year.
I met so many new bloggers who live here in Atlanta. They're pretty cool chicks.
I'm trying to friend Jessica so I can add her to the Georgia Social Media Moms Facebook group. Facebook is NOT cooperating. Oh wait, after an entire day we figured it out. "Hey Jessica! Hey girl! Hey!"
I should not bring my laptop to a blogging conference because I will do work instead of listen.
Why did my tablet break the day before the conference? Next year I'm bringing it.
Why didn't I set an away message on my email so people aren't expecting an immediate response?
This discussion on negotiating your rates should be held every year with concrete examples from the presenters. I'm glad @roociambriello used a chat she had with Meghan as a discussion point.
All this talk about money makes me think about how many sponsored posts I write. Is my blog still my voice if I'm promoting products a few times a week?
No one's talking about Twitter Parties or the fun ways to monetize and grow a reach on Twitter.
I bought two books: Everything But the Posts by Becca Ludlum and Think Like a Rock Star by Mack Collier, the founder of #BlogChat. When will I find time to read them? Maybe we need a blogger book club?
I love seeing @AskDocG and she is always so positive and uplifting. Her book: Get the Behavior You Want…Without Being the Parent You Hate! is going to do very well.
I've really got to get started on my Holiday Gift Guide.
The outsourcing discussion is pretty good and had examples I could use. Now I just need to let go of my control-freak ism and hire someone to handle some tasks for me. I'm glad @RichSingleMomma offered sites to find people to hire.
Do I write too many sponsored posts? Do I accept invitations to too many events? Is blogging becoming too much about money?
OMG Get Off My Internets is a disturbing gossip site. But I guess every industry has one. Please Baby Jesus don't let me do anything to get on their radar.
I never heard the term "gaybies" (babies of gay parents) until Michael from A Bug and a Bee read his "We Still Blog" submission. He and his partner have twins.
Who knew I'd have a mini-Mizzou reunion at Type A! Hey there Jen Lee Reeves and Jill Krause, and even Michael (mentioned above) was there when I was, but in a different major!
I need to get my butt in gear in a lot of ways and just DO IT! All the things I'm afraid of.
FOMO – Fear of Missing Out – is rampant in the blogosphere. Wouldn't it be nice if we stopped obsessing about what everyone else is doing and focused on ourselves?
I wish someone would do a conference based on "tracks" like we do for journalism conferences. Blogging tracks could be "Newbie – blogging less than 2 years" or "Mid-range – blogging 5+ years) so we can hear content that's applicable for us.
What are some innovative ways bloggers can monetize without becoming a mouthpiece for brands? I heard a few things about sponsored Instagram campaigns that peaked my interest. Maybe I'll offer that for my Holiday Gift Guide
Julie from @RunWalkFastPass  made the weekend worth it. She came up to my table because she remembered my post from last year!!! Santa Claus made her think about what she tells her daughter about characters like Santa and the Tooth Fairy. So my post…made her think about the way she parents…that's the original purpose behind blogging for moms and dads, right?
Although my 2014 list may seem a little all over the place, check out my 2013 Type A Conference and Blogalicious Wrap Up Video, "
10 Blogging and Business Lessons I Learned
."  Just watching the video showed me how much I've grown in the last year and may just outgrow these types of events – unless I see it as a reunion with my blogging friends across the country – instead of a conference with major content. Maybe my attention should turn to getting a business coach instead…
Aside from the books I'll read, I'm also preparing to moderate a panel at
Niche Parent 14 Conference at Walt Disney World
. I want attendees to walk about with resources and actionable items that can implement to showcase their expertise in media interviews.
Talk back to me in the comment section. How do you determine whether it's worth it to attend a blogging, home schooling or professional conference? Do you or your company pay for it? How can conference creators make sure they offer something new every year? How do you "work" the conference and get the connections you want to make?