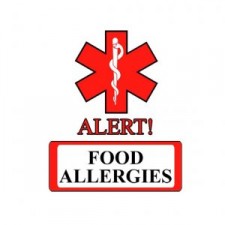 When A.J. was three months old I noticed he was scratching his face so hard, he was bleeding.
I immediately called the pediatrician and we had an appointment the same day. Blood tests showed he was allergic to milk and peanuts and since I was still breastfeeding him, the pediatrician said that meant I had to stop eating milk, cheese and peanuts too. We later learned he's allergic to soy, chocolate, all tree nuts and seafood.
When I run down the list people are usually shocked and ask "What CAN he eat?" With a lot of label reading he's still able to eat lots of foods, plus all fruits and vegetables.
But he's not alone. So many of my friend's kids have allergies too. They seem to be growing out of them around age 5. Have you ever wondered, "Why are more kids suffering from food allergies?"
Today Show: Why are more kids suffering from food allergies?
Visit msnbc.com for breaking news, world news, and news about the economy
A.J.'s preschool has developed a nut-free snack policy thanks to his allergies. Most schools are adopting the same policy since nut allergies are on the rise. I know it's an inconvenience for parents who like to bake muffins and cookies and share it with school. I love peanut butter cookies and peanut butter sandwiches myself. Now I only eat them when he's asleep or when I'm at a restaurant by myself.
Mabel's Labels – Perfect for school, camp or daycare and feature
allergy alerts
on your child's snacks and cups is another way to avoid allergic reactions at school and play spaces.