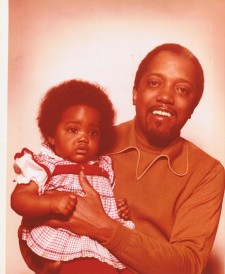 In this picture my Daddy is holding me when I was about six months old. People have told me you can see how proud he looks in this photos. I sure hope he was.
All the Father's Day news stories and events are fading, so I thought maybe now I'm O.K. to discuss the loss of my Father. John H. Brewer died on May 16, 2011 at our home in New York. He had a long list of medical conditions that put him in hospice care six months ago. Sadly and fortunately, it gave our family time to prepare for his loss. My Daddy died one week before my parent's 42nd wedding anniversary.
Unlike other "Morning Josephine" videos, I can't possibly sit down and talk on-camera about losing my Father yet. I can say I shed my share of tears on Father's Day and tried not to make it too uncomfortable for my husband since it's a day to celebrate him too.
I'm grateful for the moments I caught on camera for the last year of my Father's life which coincided with the first year of A.J. life. A.J. only saw his Grandaddy four times and won't remember him, except through videos like this:
To say I'll miss him is an understatement. Loss is strange. I feel different emotions about losing him throughout the day.
Thank you to those who called, texted and sent me condolences cards.