This week I'm launching the "Summer Survival Series," designed to help your find solutions to some of your biggest concerns this summer. It can include juggling  summer camp, family vacations, work-life balance or anything that's on your mind. I know I'm already getting a bit stressed out about juggling summer camps. A.J.'s preschool is taking a few weeks off here and there, so I've found a few options to keep him busy and happy! The first topic I'm tackling: "What  causes your summer stress?"
Summer Stress
Although summer is supposed to be a relaxing time of year that's not always the case. School is out. Camp is in, but it may be different from school hours. Cousins and family are visiting you. Are you responsible for this year's  family reunion or 4th of July celebration? Join me every Monday in June for the "Summer Survival Series" when I'll get answers to your pressing questions this summer. Are you a brand or business with a solution for moms? See how to get your brand/business featured on the show!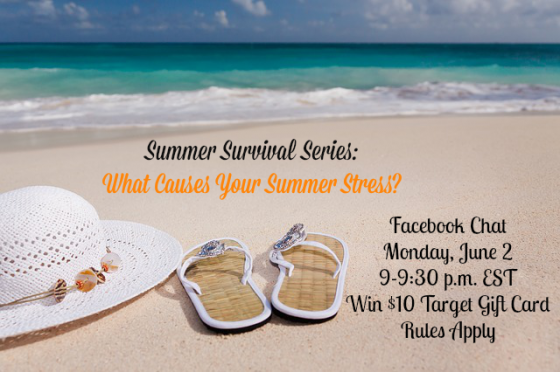 Talk back to me today and let me know on the Mommy Talk Show Facebook page so I can help answer your questions.
Facebook Chat: What Causes Your Summer Stress?
Date & Time: Monday, June 2nd from 9-930 p.m.
Win: $10 Target Gift Card
Rules:  Facebook RSVPs  close at  9:10 p.m. EST.  If you RSVP after 9 p.m., you are not eligible to win the $10 Target Gift Card.
Past Mommy Talk Show guests and previous 2014 giveaway winners are not eligible to win.
You must follow the thread/discussion and be signed on to Facebook as an individual, not a business or fan page.
No links or tagging pages/business are allowed in the Facebook chat.
I reserve the right to block disrespectful, rude and derogatory comments.
Have fun and I look forward to chatting with you.
Here are some summer related stories you may like to read and share:
How to pick the perfect summer camp for your preschooler and Summer Savings Advice from Frugal Moms.