I've joined forces with three other author moms who'd like to present to the "Summer Reading List for Moms E-Book Giveaway."
We're offering four of  our books you can curl up with on the beach or in the backyard this summer. Actually, since they're e-books, you can read them on your tablet, laptop or smartphone.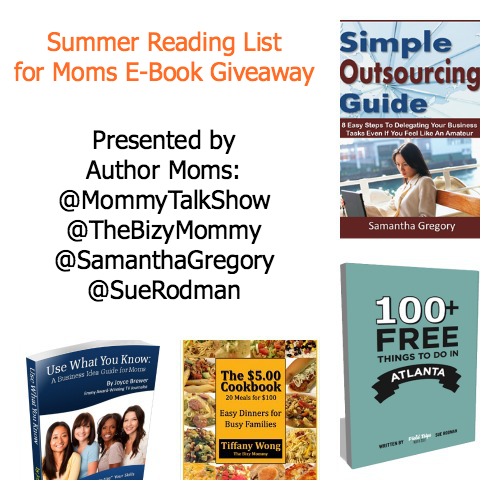 About the mom authors
After I wrote my e-book in 2011, I've been about to connect with other amazing blogging moms who've released their own books. I even hosted a webcast for E-book author moms where we talked about writing and marketing our work.
I'm offering my e-book, Use What You Know: A Business Idea Guide for Moms (value: $12) that helped me earn the 2012 Circle of Mom Top 25 Book Author Moms award.
Travel mom Sue Rodman shares her knowledge on Field Trips with Sue and is offering her e-book, 100+ Free Things to Do in Atlanta. It's a great resource whether you live here or plan to visit.
Samantha Gregory is a professional writer who also formatted my e-book and created the cover. Her e-book, Simple Outsourcing Guide: 8 Steps to Delegating Your Business Tasks Even if You Feel Like an Amateur.  Samantha is also a money expect and advocate for single moms at Rich Single Momma.
Mom of six and entrepreneur Tiffany Wong is a pro at home management. She blogs about her life and loves at The Bizy Mommy. Tiffany shared her cooking and budgeting expertise in the $5 Cookbook. It has 20 meals you can cook for your family for a total of $100 with amazing images and recipes.
Enter the E-book Giveaway
The deadline is August 1, 2013 and all of the entries below are mandatory.