Here is a guest post from Bernetta Style with array of stylish maternity wear options.
The test is positive – you're pregnant, now what? I know your first thought is, "What am I going to wear?!" I know there are so many other things that go through your head. For me this time was different. I already had two children and when I found out I was pregnant with baby number three, my mind was racing. I had recently started my blog about Living Simple, Smart and Stylish and here I am pregnant!  I wanted to be pregnant and stylish for sure but remain on a budget because I knew I wouldn't be wearing these clothes again.
The days of wearing a maternity t-shirt and sweats or just a big dress your entire pregnancy are over. These days there are so many maternity designers ranging in all price brackets that it's almost no excuse not to be cute (if you want to be) when you are pregnant!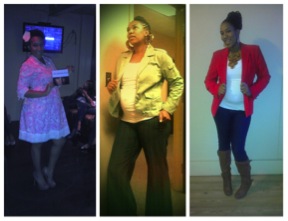 Favorite Maternity Stores
Although I love to look cute, I love to get my looks for less even more! In every store I go in, I usually hit the clearance rack first. It's just something about saving money that makes me smile.
Target: This is one of my favorite stores when I am not pregnant too, but they also have an adorable maternity line that is super stylish and made of great quality. Did I mention, they always have clearance racks ranging from 30%-70% off.
Ross:  This store is a big clearance rack with prices much lower than department stores, but one thing I like about their maternity section are the prices don't make you feel guilty for buying so many pieces.
Old Navy: When I think of this store, I think "Trendy". Old Navy always has what's in style, sometimes before it becomes a style. Meaning, their maternity clothes are going to have your belly cute but while being wallet friendly.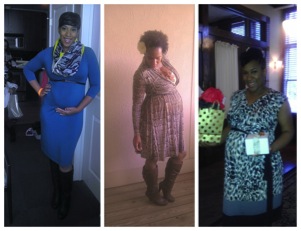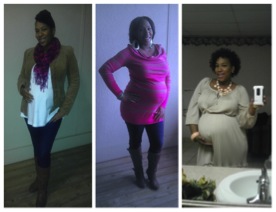 Maternity Must-Haves
These are items you could wear often and dress up or dress down.
1)     Leggings (get them in a few colors). You could wear them under a dress or a cute shirt.
2)     Jeans- I only had two pair of maternity jeans but you wouldn't have known because I always dressed them up differently.
3)     White/Black shirt – a comfortable shirt that you can just add cute jewelry or jacket over it.
4)     Dress – you will have to go to some event during your pregnancy, it is important to have that great go to dress that compliments your belly.
5)     Extras – Earrings, belts, necklaces, bags, etc. make everything look cute!