I drive a Buick Park Avenue, a large car that's far from fuel-efficient. I recently finished a 2013 Kia Rio review and was impressed with the full efficiency and style. I put it to the test when I had several events to attend around Atlanta. Check out the 2013 Kia Rio video reviews I created of my experience and three year old A.J.'s hilarious comparison of the Rio to the Soul.
For day-to-day driving, I usually stay within the Atlanta Perimeter or even closer. With Atlanta traffic it's a big deal when I travel more than 20 miles from our home. I take A.J. to preschool twice a week, go to the grocery store, a play date or two and Starbucks. When I'm headed downtown or to the airport, I'll hop on Marta to avoid the parking hassles.
But I was excited to take the 2013 Kia Rio on a few spins that involved highway driving since I had a few events in attend. I was invited to speak to journalism students at Kennesaw State University, which is about 25 miles from my home. I also attended a do-it-herself workshop at the Home Depot near Cumberland Mall, which is about 15 miles from my home.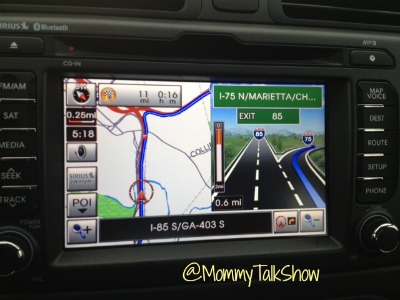 Thank goodness for the 2013 Kia Rio's navigation system. I dropped A.J. off at our friend's home in Smyrna so I could head to Home Depot. Nine out of 10 times that I go to their home I get confused about how to exit off of 285 and onto Cobb Parkway to get to their neighborhood. This time, I didn't get lost!
2013 Kia Ria Video Review
2013 Kia Rio Fuel Efficiency
I drove more than 250 miles on one tank of gas the week of my review. Here's a look at the official MPG.
28 miles per gallon city

36 miles per gallon highway

31 miles per gallon combined city/highway
It's usually just A.J. & I in the car together during the week. So the 2013 Kia Rio has enough space for us. It's perfect for getting around town and saving gas. When we take a weekend drive as a family, we usually drive my husband's car that has a lot more space.
How important is fuel efficiency when you're shopping for a new car?
What features of the Kia Rio do you like the most?
Toddler Compares Kia Rio to Kia Soul
Disclosure: I received the 2013 Kia Rio to review for one week and share my honest opinion.
No other compensation was received. All opinions are my own.