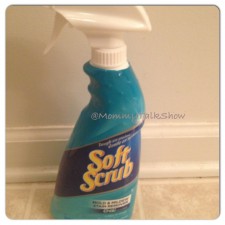 As a Purex Insider, I receive complimentary cleaning products like Soft Scrub Mold & Mildew Gel to review and share my experience with you. I'm also giving away coupon to try the new product that's designed to give you tough stain fighting without the harsh fumes or other cleaners. You can find it in in the cleaning products aisle of your grocery store or drug store.
I used the Soft Scrub Mold & Mildew Gel Spray on a tough stain in our son's bathroom sink. I presume it's from all of the toothpaste and dirt settling near the drain.
Like the directions say, I sprayed the Gel Spray on the stain, let it sit a few minutes and used a sponge to scrub the stain. As promised, there were no harsh fumes. I checked to make sure I wasn't doing anything wrong and the spray was coming out because I'm used to being overcome by a bleach smell with lots of cleaning products. The spray went on well and the gel coated the area I sprayed. But I had to scrub very hard to get the stain out and it took several applications. I still prefer the Soft Scrub Total Clean better for cleaning. Here's a look at the results:

Soft Scrub Mold & Mildew Stain Remover Results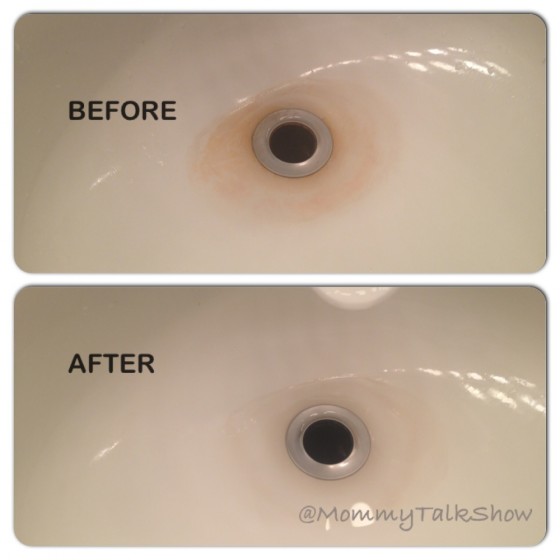 If you'd like to try the Soft Scrub Mold & Mildew Stain Remover Gel for yourself, enter the giveaway below.
a Rafflecopter giveaway
Disclosure: The Soft Scrub Brand provided a complimentary sample of its NEW Soft Scrub Mold & Mildew Stain Remover in exchange for a product review. All opinions and thoughts are my own.