Do you love a good Twitter Party?  You know we do and we're excited to host a party about putting your best blogging foot forward this year!  On Tuesday, September 1st at 1:00 pm ET, please join us for the #SoFabUOTR Twitter Party where we'll be discussing easy ways to boost your blogger know how, and giving you a chance to win prizes!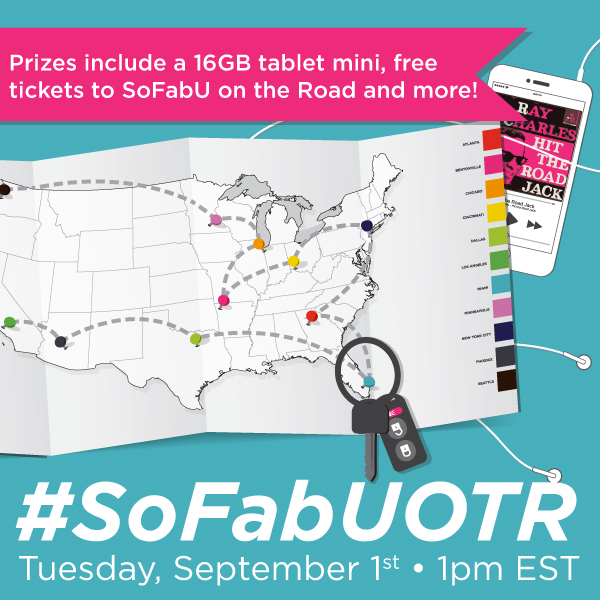 The SoFabU On the Road Tour will visit Atlanta on Saturday, September 19th! Learn more about the conference and pick up your ticket on sale now!
Join me and RSVP for the #SoFabUOTR Twitter Party on SoFabChats!
DATE: Tuesday, September 1st
TIME:  1:00 pm EST
PRIZES:
Early Bird Prize: Johnny Rockets gift card ($50 value)
Prize 1: SoFabU On The Road Pass ($99 value)
Prize 2: SoFabU On The Road Pass ($99 value)i
Prize 3: SoFabU On The Road Pass ($99 value)
Prize 4: SoFabU On The Road Pass ($99 value)
Prize 5: $100 gas card courtesy of Mitsubishi Motors
Prize 6: $250 Walmart gift card courtesy of Kraft Foods
Prize 7: 16GB Tablet Mini (ARV $399)
HOSTS: @themommyfiles, @MommyTalkShow & @tsue1136
SPECIAL GUESTS: @SoFabUniversity & @SoFabUOTR
RULES: #SoFabUontheRoad Twitter Party Official Rules
RSVP & PARTY GRID: #SoFabUontheRoad Twitter Party Page
CLICK TO TWEET:
RSVP for the #SoFabUOTR Twitter Party 9/1 AD – http://t.co/kq9sl0tJrm via @MommyTalkShow pic.twitter.com/bll38bI47g

— Joyce Brewer (@MommyTalkShow) August 22, 2015