One of the questions I'm asked most about my life and career post-TV, is how do I make a living as a blogger? I wish it was a simple answer. It's pretty complicated and fun and ever-changing. I've invested a lot in my blogging career: equipment, graphics and web design, hosting and email accounts, and most importantly – blogging events. In fact,
I am the Atlanta Ambassador for So Fab U On the Road (OTR) Atlanta on September 19, 2015
. I am compensated for my participation and speaking at the event. Social Fabric is the community brand of Collective Bias, a social shopper agency that connects bloggers with brands like Walmart, Tyson Foods, Coca-Cola for sponsored campaigns. I've had the pleasure of working with Collective Bias for about three years now.  If you're a blogger or thinking about starting a blog, you should stop what you're doing and
join Social Fabric
for consideration, then see how you can connect with them even more when
So Fab U OTR comes to Atlanta
.
VIDEO: What is SO Fab U On the Road Atlanta?
I'm Presenting on Video Blogging
As a former news anchor and reporter, I love video blogging! Although short Vine videos (six seconds) and Instagram videos (15 seconds) are all the rage – nothing beats the power of YouTube videos. Did you know that YouTube is the second largest search engine in the world behind its owner Google? It's also an amazing way to drive traffic from your YouTube video to your blog with optimized use of the description box. I'll go over all of that at So Fab U On the Road Atlanta. I'm also picking one attendee to work one-on-one with me to turn their most popular blog post into a video.
Summer Davis (@DirtyFloorDiary) is presenting on your authentic voice and building a community, while Rebecca Parsons (@RebeccaEParsons) will explain storytelling and your passion.
Nathan Engels will be our guide for the Afternoon Adventure with a focus on photography, lighting and recipes.
Register for So Fab U on the Road Atlanta
Early bird registration ($49) for Social Fabric Members ends August 19, 2015 as long as you agree to write a blog post before the event
Early registration ($99) for non-Social Fabric Member is open through August 19, 2015, then standard pricing is $99 – $149 for non-members.
Your event registration includes access to the breakfast, lunch, an Afternoon Adventure downtown and the Happy Hour event to wrap up the evening.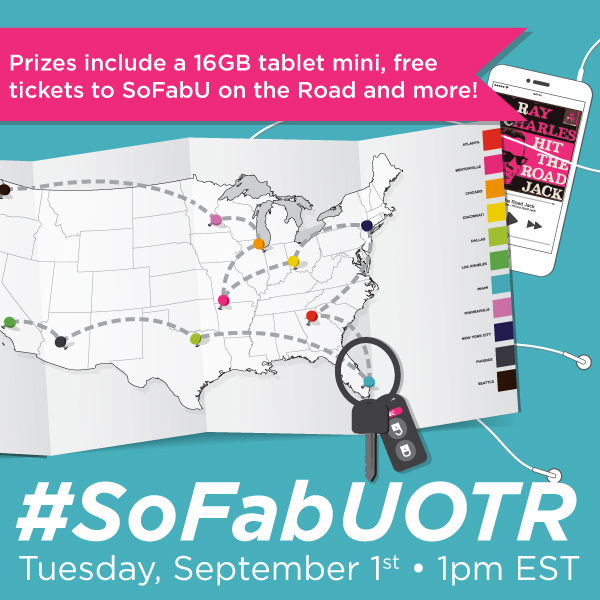 Join us for the #SoFabUOTR Twitter Party Tuesday, September 1st at 1 p.m. We will answer your questions about the event and giveaway prizes to help you attending, including a gas card, gift cards and four (4) passes to the conference.
Traveling to SO Fab U Atlanta
If you live in the Atlanta-area, I highly recommend that you take MARTA public transportation to the Phillips Arena/GWCC/CNN Center stop and walk two blocks to the Embassy Suites. Downtown parking is a headache depending on whether there's a game, event or concert. The Embassy Suites offers valet parking for $32 for the day. You can also find parking garages downtown.
The Embassy Suites Hotel Atlanta at Centennial Olympic Park is adjacent to the Georgia Aquarium and across the street from the Georgia World Congress Center. Every Embassy Suites stay includes two-room suites, complimentary drinks and free made-to-order breakfast. The nightly rate for So Fab attendees is $187 per night.
Comment below: What are you burning questions about blogging?  What would you like to learn in Atlanta? Have you attended any of the So Fab U On the Road events in other cities?
Can't wait to learn video blogging via @MommyTalkShow #SoFabUOTR Atlanta 9/19 REGISTER: http://t.co/bxRrIv0HR1 pic.twitter.com/Shat4qLnyc

— Joyce Brewer (@MommyTalkShow) July 9, 2015