I'm not the most physically adventurous person. Walking and jogging are OK. I climbed a rock wall on a cruise years ago. But that's about it. When we were invited to to go  Snow Tubing at Stone Mountain Park I figured Sr. & A.J. would tackle the mountain – without me. I was wrong.
I was most concerned about A.J. taking the tube on Snow Mountain because he tends to get scared at the slightest thing. It's understandable. He's only four years old. I was shocked at how confidently he took the moving walk way to the 400 feet high snow covered top of the mountain with his Dad. Although A.J. is tall enough to tube alone (required: 42 inches), I didn't want him to get scared on the way down because he was by himself. So The Antoines took a group tube ride with some other folks. Here's a short video:
Snow Tubing at Stone Mountain Park

As soon as they finished their first downhill slide, they got right back in line to ride again. My face was SHOCKED. A.J. was smiling. He wasn't scared at all.
Then I decided to I'd give it to try. Thankfully, a fellow blogger MJ from FabHauteMama.com was close by and could hold our belongings. We ventured up to the top of Snow Mountain together. I thought I was prepared. But I wasn't. It was so funny I had to buy the photo Stone Mountain took that captured my emotions as we slid down the snow covered mountain.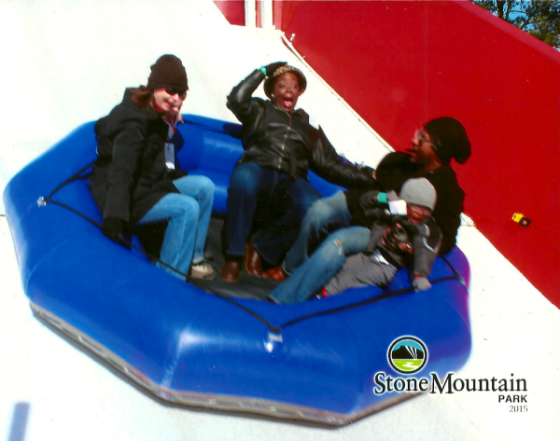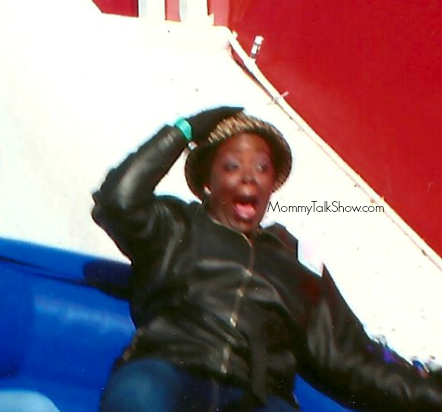 Yes, I survived. And it was amazingly fun.
Remember – space is limited and you will get an assigned time to tube at Snow Mountain. Pack your patience because there are wait times to get up the mountain to wait your turn. Also bring dry clothes to change into. There are locker rentals within walking distance of Snow Mountain.
Check out the smaller Snow Zone area for the little ones. A.J. did his best to make snowballs and play in the snow. There's also tubing there on a much smaller scale. But he fell off when he ride by himself and had a mini-meltdown. Overall, I'd love to go back one more time this winter to tube by myself. I think I'm ready. Maybe. I'll have to check my heart rate.
In my video above you also got to see our Summit Skyride  cable car ride to the top of Stone Mountain. The cost is included in Adventure Pass & Mountain Membership. Otherwise, round trip is $10 while one way is $6 (plus tax).