We kicked off our summer as some of the first Georgia folks to take a ride on the JUSTICE LEAGUE: Battle for Metropolis at Six Flags Over Georgia.
I wasn't sure what to expect since I'm not a huge roller coaster fan, but I love a healthy dose of super heroes. With Wonder Woman finally getting her big screen attention in the movies, I was interested to see what the ride would bring.  Here's what you need to know about the JUSTICE LEAGUE: Battle for Metropolis, the only ride of its kind in the Southeast.
Ride Wait Time
Since we attended a media event, our wait time for the Battle for Metropolis was less than the average attendee. But don't worry because a large part of the line can fit in the indoors waiting area with air conditioning. Whoo hoo!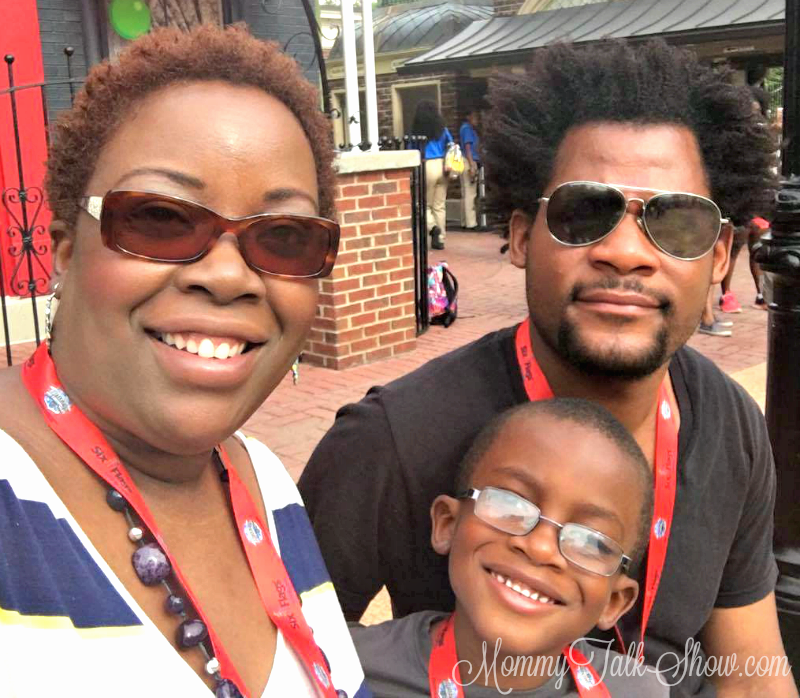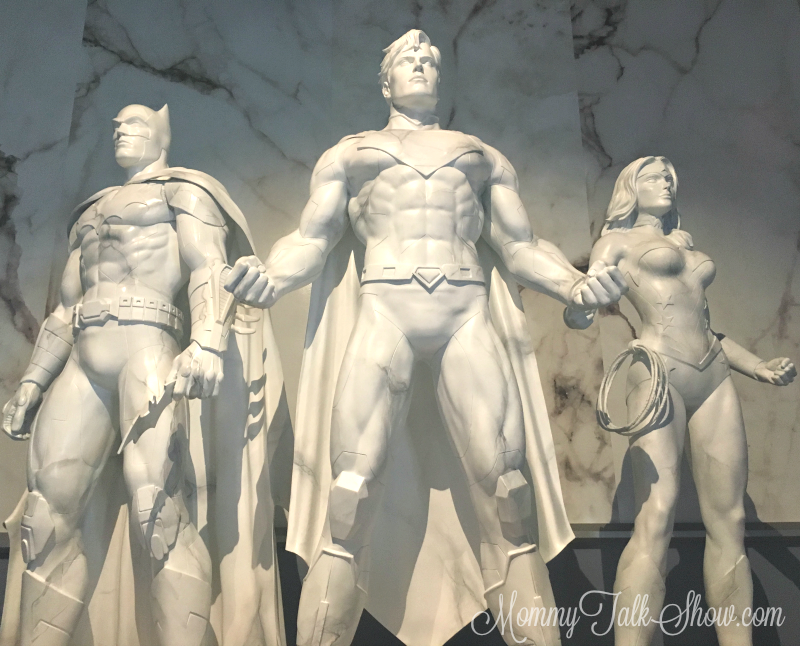 JUSTICE LEAGUE: Battle for Metropolis is inside The Hall of Justice which gives honor to the DC Super Heroes. You'll hear music and basic instructions on how to board and ride the game.
Learn more about the thrilling ride on Justice League Six Flags page.
Seating
This is a high-tech indoor ride. It's perfect for a hot day when you've already enjoyed the coasters and need to cool off.
Our family of three easily fit into the front row of the car that takes you on a ride through the Battle for Metropolis. Each of use had a laser gun for the battle.  If you're traveling with a group, there's a back row of three seats too, so there's easily seating for six.
Keep at eye on the score screen in your car to see how you rank with your team.
Height requirements apply. If I was pregnant or had just eaten a large meal, I'd skip the JUSTICE LEAGUE: Battle for Metropolis ride.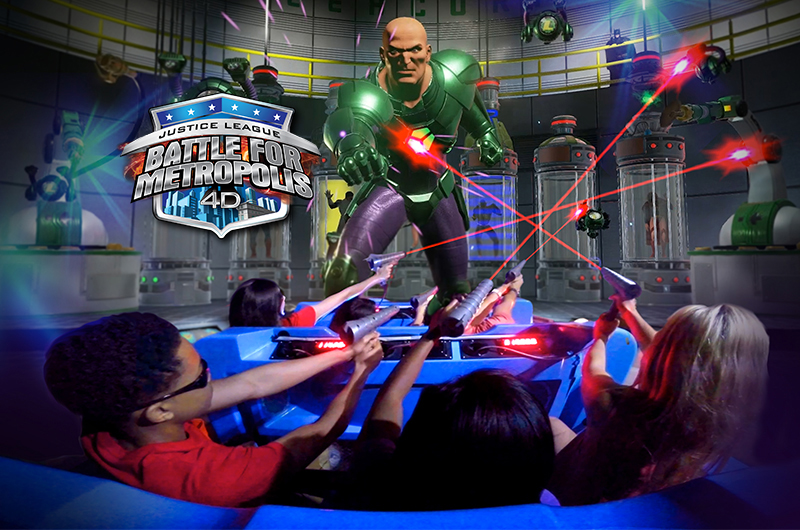 Sensory & Tech
You will be shooting at Lex Luthor, The Joker and the rest of the bad guys. You'll go through tunnels thanks to 4D effects and fighting along side your favorite DC Comics Super Heroes, including BATMAN™, SUPERMAN™, WONDER WOMAN, THE FLASH and GREEN LANTERN.
There's mist,  explosions, twists and turns and even a big loop your car encounters.
"There's no better way to celebrate the park's 50th anniversary season than the unveiling of the most innovative and multi-faceted attraction the park has ever built," said Six Flags Atlanta Properties Park President Dale Kaetzel.
Post Ride
I needed to catch my breath after the ride. I was surprised by how much I screamed and yelled when I encountered the bad guys and blasts. After the ride, take a walk through the JUSTICE LEAGUE: Battle for Metropolis retail store with an exclusive line action figures, games and more!
As soon as we got off, A.J. and my husband got back on the line to ride it again and try to beat their first score.
Watch A.J.'s video review of JUSTICE LEAGUE: Battle for Metropolis: 
Get even more information about the Six Flags Over Georgia Justice League: Battle for Metropolis ride since the park is now open daily through August 6, 2017. Take a look at the season pass and dining options.
Like Six Flags Over Georgia on Facebook | Follow Six Flags Over Georgia on Instagram
My friends, Lesli and Sue at 365 Atlanta Family, created this Six Flags Over Georgia Guide to Beat the Lines and Get Discounts.