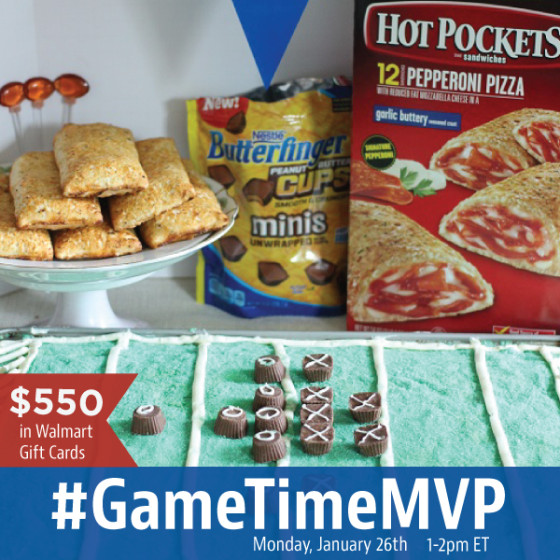 Photo credit: Mama Loves Food
Do you love a good Twitter Party? You know I do and I'm excited to host a party about big game parties. On Monday, January 26, from 1-2pm ET, please join me for the #GameTimeMVP Twitter Party.  We'll be chatting about adding a delicious, easy play to your big game day with Nestlé products.  Let's share ideas about how to create the ultimate game day atmosphere and prepare to party with game day snacks from Nestle and Walmart.  Like any fun party, you'll have a chance to win prizes!
I'm not a big sports fan. But I love to socialize at a game day party. Instead of keeping my eyes glued to the big screen you'll find me socializing around the snack table. Whether I'm hosting the party or attending one I know it's the game day food that matters most.  Pepperoni Pizza, Ham & Cheese, or Philly Steak & Cheese Hot Pockets® are snacks that your guests will love to talk about. For even hardier appetites, consider Lasagna or Mac & Cheese Stouffer's® Party Size Entrees. I'd love to hear what are your favorites at the #GameTimeMVP party!
RSVP for the #GameTimeMVP Twitter Party on SoFabChats!
DATE: Monday, January 26th
TIME: 1:00 – 2:00 pm ET
PRIZES: (5) $100 Walmart Gift Cards
EARLY BIRD PRIZE: 1 – $50 Walmart Gift Card
HOSTS: @KellysLuckyYou, @MommyTalkShow, @Candypo, @AFrugalFriend, @thedomesticexec
RULES: #GameTimeMVP Twitter Party Official Rules
RSVP & PARTY GRID: #GameTimeMVP Party Page
TWEET TO SHARE:
RSVP for #GameTimeMVP Twitter Party #Ad http://t.co/F7AiCHw84D via @MommyTalkShow pic.twitter.com/2akvDjvhqU

— Joyce Brewer (@MommyTalkShow) January 21, 2015
How To Participate In A Twitter Party on SoFabChats!
TIP: How to join a Twitter Party – sign in! Before party starts, click on the green "Sign In On Twitter" bar at the top of the page!
TIP: Who to follow at a Twitter Party? Follow the Party Team by clicking on the Twitter handle links on the RSVP page!
TIP: Want to win Twitter Party prizes? RSVP by clicking on RSVP button before you join the party, follow everyone on the Party Team, and tweet with the party hashtag during the party to be eligible!
TIP: How to win the Early Bird prize? Watch for chance to share a tweet when you RSVP for chance to win!
TIP: Special deals and brand coupons? Keep that option checked when you RSVP for the party!
TIP: New to Twitter parties? Watch your column and Party Team tweet columns – they are slower paced and easier to follow!
TIP: Where to find Twitter Parties? Check out the SoFabChats Twitter Party Calendar to find more fun parties to attend!
Find more helpful Twitter Party Tips on SoFabChats!