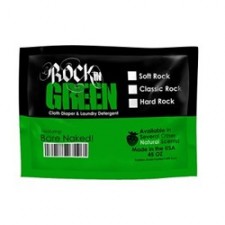 I first heard about Rockin' Green Soap when I covered the Great Cloth Diaper Change and received a sample of the eco-friendly detergent in the goodie bag. Since I'm not a cloth diapering mama, I passed my sample on to my friend Brittany who used it to wash the diapers for her twin girls. Brittany's review of RGS was, "The dingy color, the feeling of residue and the lingering odor disappeared after the first soak. I won't use anything else now!"
Since I know many of you use cloth diapers,  I sought out this giveaway for Rockin' Green Soap and their PR team was happy to oblige.
What's new with RGS? The award-winning company is also launching two new products. According to RGS, the New Melody Room Spray "works by taking the smell out of the room or items such as shoes, pillows, clothing and linens with a simple spray over the smelly fabric." Meanwhile, the Groupies Dryer Balls have energy-efficiency in mind. "When we invented the Groupies dryer balls, our goal was to help families cut their laundry time in half and to help them save energy, money and to eliminate waste associated with traditional dryer sheets that can only be used once and then are disposed of," says Creator Kimberly Webb.
If you're not familiar with the company, watch these videos of their story and hear from the creator. Then look below for the giveaway details.
Here's how to enter to win a full size bag (45/90) of soap with your choice of water type and scent:
Check out the Rockin' Green Soap online store. Choose from Soft (comes in Bare Naked Babies only), Classic or Hard Rock soaps depending on your water type and scent.

Comment below and tell me which one you'd like to win

.
Like both Rockin' Green Soap and Mommy Talk Show on Facebook. 

Comment below and tell me you did this

.
BONUS ENTRY: Follow and Tweet – Enter to win @RockinGreenSoap  eco-friendly #clothdiaper detergent  #giveaway via  @MommyTalkShow   by 10/11 – http://bit.ly/rgsgiveaway
Deadline to enter is October 11, 2011 by 9 p.m. EST
Disclaimer: I will receive a full-size RGS detergent in exchange for this giveaway.