This month I did something I hadn't done in two years: I canceled my Amazon Prime membership (value: $119/year). Don't get me wrong. I love streaming TV shows and movies on Amazon Prime Video. I love listening to Amazon Music (especially the Trolls soundtrack) when I'm working around the house. Two-day free shipping has been a convenient way for me (and my husband since I share the account with him) to order the things without running around to stores like a maniac. Nevertheless, I still quit Amazon Prime.
My annual renewal date is the last week of December. To protect my monthly budget after Christmas shopping and travel I decided to cancel my Amazon Prime membership, renew it in a few months and see what life was like without it as my go-to shopping source. As much as I love the idea of not paying for shipping, that's not an entirely accurate description of what Prime members get.
We pre-pay for shipping for a year, are often times disappointed by how few items sold on Amazon are eligible for Prime, and then face even more disappointment when the item doesn't arrive in two days (as promised).
My commission-earning Amazon affiliate links and eBay links are below.
I'm still an economical person who likes to save money when I can. Free shipping is a perk I didn't want to give up entirely. So I found these workarounds to get free shipping even though I quit Amazon Prime.

How to Get Free Shipping Without an
Amazon Prime Membership
Target
As a Target REDCard holder (at no additional cost), I'm eligible for discounts (average 5-10%) through the Target app and free shipping for items that total more than $25. Here's a look at my shopping cart when I found a few items I needed for our family. You'll see the REDCard discount and free delivery before I clicked checkout.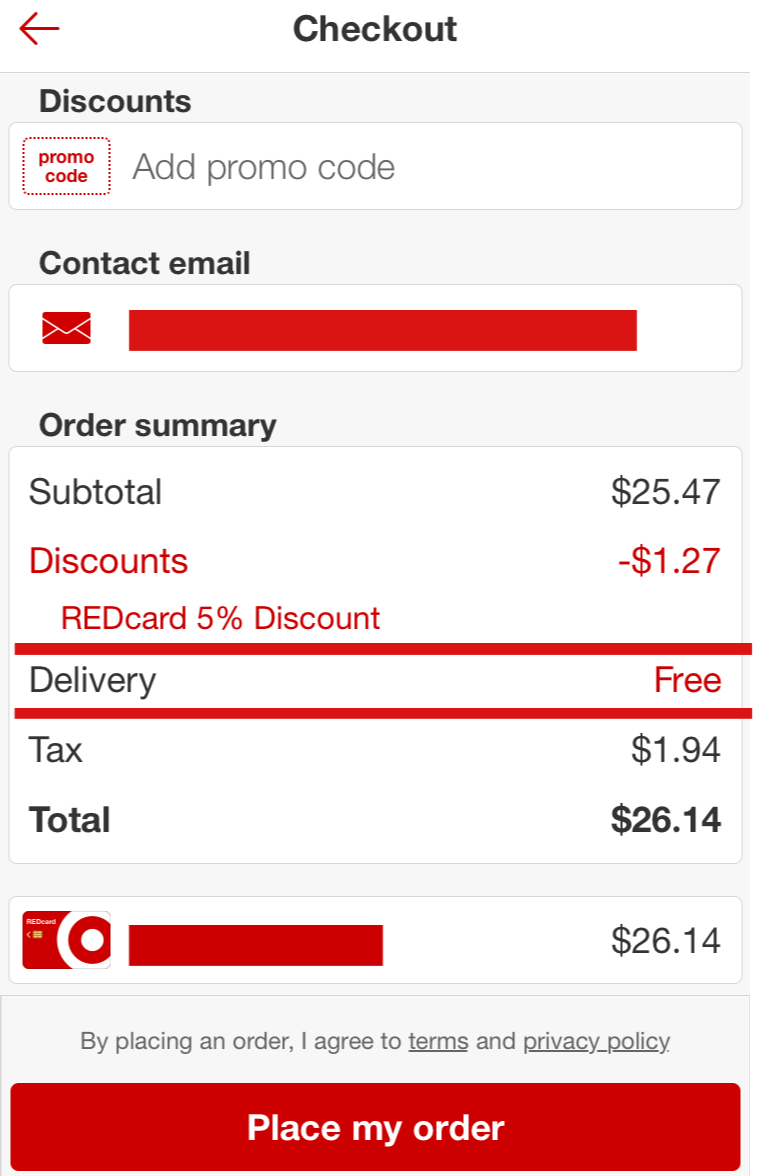 Walmart
I noticed right around Christmas 2018 that Walmart had more TV ads promoting its free shipping offer for purchases over $35 (at no additional cost).
I also find myself checking prices and inventory on the Walmart app before I head to the store.
You can also narrow and see what aisle the item is in to cut down on your time shopping in the store.
eBay
According to multiple sources including Yahoo News, a company called Deliverr is helping eBay fulfill shipments faster.
"Sellers can use Deliverr to list products for two-day shipping on Walmart, Shopify, and eBay."
Bonus Tip: Make Large Orders
Many major retailers offer free shipping if your total purchase is more than $50, $75 or even $100.
By making a large purchase of multiple items you're cutting down on waste by reducing the use of small boxes, packaging materials and reducing the number of delivery stops USPS & UPS workers have to make.
Amazon Prime Discount Memberships
College students are eligible for discounted Amazon Prime Student. So are EBT & Medicaid cardholders who can pay as little as $5.99/month for membership.
Are you considering ditching Amazon Prime or have you already broken up with the service? If you've never had Amazon Prime and are considering joining, there's a
30-day free tria
l.
Pin this to your favorite money-saving boards: