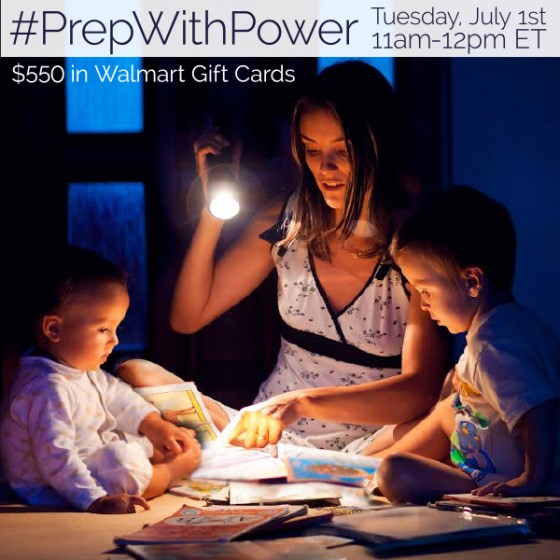 Do you love a good Twitter Party?  You know I do, and I am totally excited to host a party about Duracell® batteries!  With summer weather upon us, you have to be ready for anything!   On July 1st at 11 AM EST, please join me for the #PrepWithPower Twitter Party where we'll be talking about how to  stay prepared for when storms, bad weather, or when disaster strikes.  Don't miss this fun conversation and your chance to win prizes!
Almost every summer afternoon in Atlanta, there's a thunderstorm and a downpour. We've even had a few tornado warnings this early in the season. Both weather systems can lead to lightning, downed trees and power outages.  One of the products that is a must have in our emergency kit is Duracell® batteries.  They power our flashlights in case we need to get around the house in the dark.  I also keep several sizes of Duracell batteries handy for our son's toys in case he needs to be entertained while he lights are out.
Join me and RSVP for the #PrepWithPower
Twitter Party on SoFabChats!
TIME:  11 am-12 pm ET
PRIZES: 5 – $100 Walmart Gift Cards
EARLY BIRD PRIZE: 1 – $50 Walmart Gift Card
HOSTS:@blm03,@formulamom , @aboutamom, @MommyTalkShow
RULES:#PrepWithPower Twitter Party Official Rules
RSVP & PARTY GRID:#PrepWithPower Twitter Party Page
Join me at the #PrepWithPower Twitter Party 7/1 at 11am ET http://t.co/aA55YQQYIP #cbias $550 in prizes + emergency prep advice!

— Joyce Brewer (@MommyTalkShow) June 27, 2014
How To Participate In A Twitter Party on SoFabChats!
TIP:  How to join a Twitter Party – sign in! Before party starts, click on the green "Sign In On Twitter" bar at the top of the page!
TIP: Who to follow at a Twitter Party? Follow the Party Team by clicking on the Twitter handle links on the RSVP page!
TIP: Want to win Twitter Party prizes? RSVP by clicking on RSVP button before you join the party, follow everyone on the Party Team, and tweet with the party hashtag during the party to be eligible!
TIP: How to win the Early Bird prize? Watch for chance to share a tweet when you RSVP for chance to win!
TIP: Special deals and brand coupons? Keep that options checked when you RSVP for the party!
TIP: New to Twitter parties? Watch your column and Party Team tweet columns – they are slower paced and easier to follow!
TIP: Where to find Twitter Parties? Check out the SoFabChats Twitter Party Calendar to find more fun parties to attend!
Find more helpful Twitter Party Tips on SoFabChats!