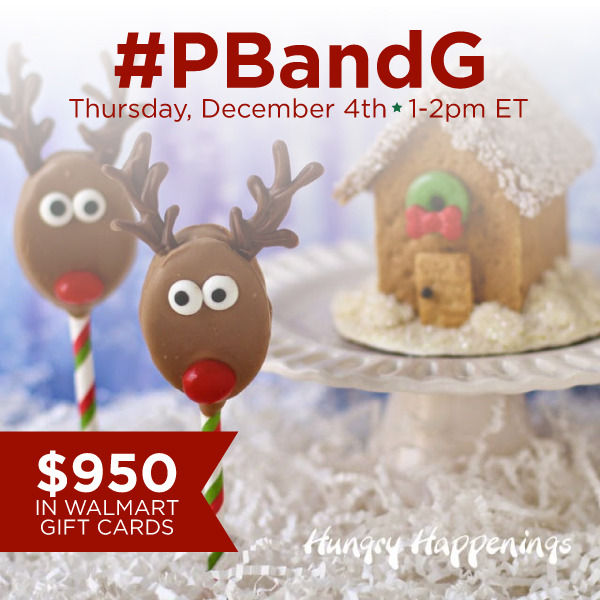 Photo Credit: HungryHappenings.com
Do you love a good Twitter Party?  You know we do and we're excited to host a party all about fun treats for the family!  On Thursday, December 4th at 1pm ET, please join us for the #PBandG Twitter Party where we'll be discussing sharable baking recipes, and giving you a chance to win prizes!
Whenever our son sees us walk into the kitchen to prepare a meal he immediately asks, "Can I help?" We tell him yes so he can learn about mixing, measuring and following directions. Make cooking a family affair with the fabulous ideas with Skippy Peanut Butter and Honey Maid Graham Crackers. During the one hour event see how to create fun holiday recipes together in your kitchen. School will be out and it'll be fun to get the whole family involved in these creations.
Join me and RSVP for the #PBandG Twitter Party on SoFabChats!
DATE: Thursday, December 4th
TIME:  1:00 – 2:00 pm ET
PRIZES: QTY – (9) $100 Walmart Gift Cards
EARLY BIRD PRIZE: 1 – $50 Walmart Gift Card
HOSTS: @OutnumberedMama, @MommyTalkShow, @iamthemaven, @DiannaKennedy @JManMillerBug
RULES: #PBandG Twitter Party Official Rules
RSVP & PARTY GRID: #PBandG Twitter Party Page
 
CLICK TO TWEET
Join me for #PBandG Twitter Party 12/4 from 1-2p EST RULES/RSVP: http://t.co/zX05weYs27 via @MommyTalkShow #ad pic.twitter.com/xMabhynnRn

— Joyce Brewer (@MommyTalkShow) November 26, 2014
How To Participate In A Twitter Party on SoFabChats!
TIP:  How to join a Twitter Party – sign in! Before party starts, click on the green "Sign In On Twitter" bar at the top of the page!
TIP: Who to follow at a Twitter Party? Follow the Party Team by clicking on the Twitter handle links on the RSVP page!
TIP: Want to win Twitter Party prizes? RSVP by clicking on RSVP button before you join the party, follow everyone on the Party Team, and tweet with the party hashtag during the party to be eligible!
TIP: How to win the Early Bird prize? Watch for chance to share a tweet when you RSVP for chance to win!
TIP: Special deals and brand coupons? Keep that option checked when you RSVP for the party!
TIP: New to Twitter parties? Watch your column and Party Team tweet columns – they are slower paced and easier to follow!
TIP: Where to find Twitter Parties? Check out the SoFabChats Twitter Party Calendar to find more fun parties to attend!
Find more helpful Twitter Party Tips on SoFabChats!