Over the last few weeks, my hair and skin revolted against me in the worst ways imaginable.  In order to turn things around, I relied on some trusty over-the-counter beauty products. Some I tried for the first time. Others, I had and just didn't use consistently.
CVS is my usual go-to for beauty products because I earn rewards bucks towards free products. In case you're not a CVS fan, my commission-earning Amazon affiliate links are below too. You're welcome to upgrade and splurge on better items. Tell me in the comments what works for you when your skin and hair aren't at their best.
Sanity-Saving Over-the-Counter Beauty Products
My scalp
The dryness of my scalp was so bad that I thought I'd need to take a Benadryl to get through all the itching one day. I was scratching a lot and noticed scaly patches on my scalp. This dry scalp is a condition I've had off & one for years. When I "fall off" from using them, I typically get a flare-up like this.
Product Solution: Head & Shoulders Royal Oils
On my next CVS visit, I stopped by the beauty aisle and bought Head & Shoulders (H&S) Royal Oils. This is different from the typical H&S product line because it's designed specifically for coily and kinky Black hair. Royal Oils also has a distinguishable turquoise bottle.
It's not as tingly and doesn't have the medicinal smelling like the typical H & S product. On the flip side, it has more of a conditioning quality and contains coconut oil. Previously when I've bought H&S in the white bottle, it did make my hair knotty and hard to comb through. I'd need to follow-up with a conditioning shampoo. That wasn't the case with the Royal Oils.
Royal Oils also has shampoo, conditioner, scalp treatments, and a deep moisture masque for conditioning.
My goal is to alternate using the H & S Royal Oils with L'Oréal Elvive product line each week.  Since my hair is colored with L'Oréal at home, I try to stay product loyal to protect my color.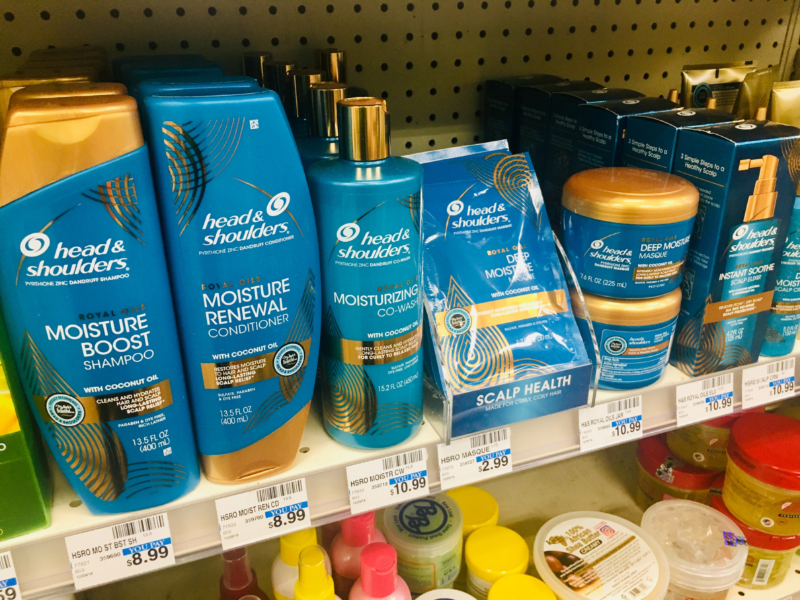 My face
I admit. I was not washing my face at night and adding a nightly moisturizer. The outbreaks started. My neck started peeling from dryness. I was a mess.
My only excuse was dry skin. So I whipped out a device and product I hadn't used in a while, then saw immediate results.
Product: Neutrogena Dermabrasion & Face Masks
I bought the Neutrogena Dermabrasian device when it was on sale at CVS a few years ago, and usually replace the puff refills on Amazon. It's important not to do dermabrasion every day or you'll irritate your skin. I do it every other day usually before I jump in the shower.
I also check out the facial products aisle at CVS to see what masks and treatments are on sale. I can wear these while I'm doing stuff around the house or right before bed and rub in the moisture.
I'm not picky when it comes to masks and maybe that'll change as I get more in tune with my skin issues. But I like the Yes To Brand of facial masks I find at CVS.
Even though I don't use them consistently, I see an immediate difference in my skin and eye area from using them.
My feet:
I'm sorry is this is TMI, but I have extremely dry skin on my feet. My heels and even the skin on the top of my feet are not sandal-ready without some work. Even lotion doesn't cut it. Neither does the coconut oil I use on the rest of my body.
Kerasal Intensive Foot Repair
I keep the Kerasal Intensive Foot Repair in my bathroom drawer and sometimes forget to use it. I broke it out this month after I did a pedicure at home and felt so much better.
What are your favorite over-the-county Beauty Products?
Overall, although these products helped tremendously on the outside they're also an indication that I'm dehydrated. So I'm focused on adding more water to my daily intake. I've reduced my coffee intake (the struggle is real) and switched to decaf.
While many people buy high-end products, I like to convenience of grabbing these items at my drug store and not having a $200 facial moisturizer sitting on my bathroom counter.