I am a Nature's Sleep Ambassador who receives products to review and share my honest opinion, including these Nature's Sleep Memory Foam Slippers.
I hate to admit but my last pair of slippers came from a "dollar value store." Don't get me wrong. They're great stores to grab cleaning supplies and affordable toys, but don't offer the best selection of comfortable footwear. The slippers were fine until the tassle fell off, then I saw a few holes from wear and tear, plus I could feel the cold floor through the bottom of my feet.
See what I mean in this Instagram video:
Nature's Sleep Memory Foam Slippers
When I got the opportunity to review a Nature's Sleep product, I ordered the Closed Toe Terry Slippers with Memory Foam in Pink. They sell for $30 and come in Pink, Pale Blue or Brown. Use the promo code: BEARS50 for 50% off the entire site with FREE shipping in the continental U.S.
Gift Ideas
These memory foam slippers would be a great gift a postpartum mom who's looking for something comfortable to wear around the house. Would you like new slippers for Mother's Day? Pin it or share it on your partner's Facebook page so they get the hint!
Keep in mind, the pink slippers are a light color. You will see signs of dirt from your floors on the bottom pretty easily. Although the Nature's Sleep website says you can wear them inside or outside, I wear them exclusively inside our home so I don't track extra dirt inside. You can spot clean the slippers or wash them.
Comment below: What do you look for in slippers? Do you find that you get what you pay for in terms of quality? Have you tried any of the Nature's Sleep products?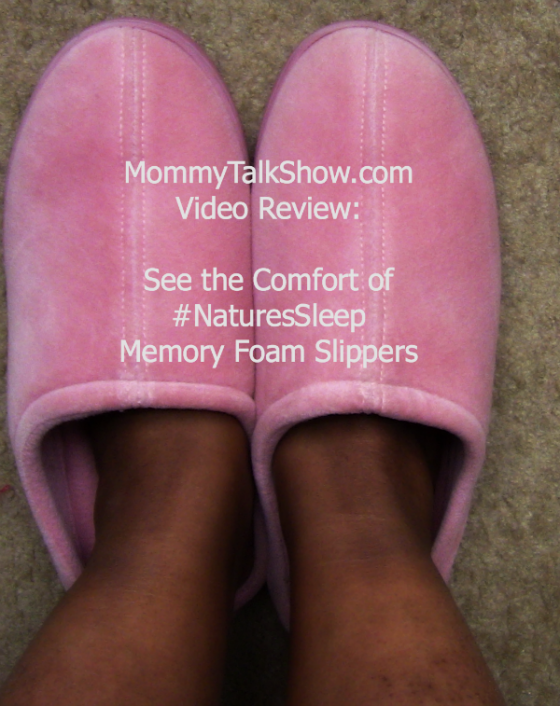 Take a look around the Nature's Sleep site and see the mattresses, pillows and pet accessories. Follow @NaturesSleep on Twitter and like Nature's Sleep on Facebook for updates on sales and promotions. Sign up for the Nature's Sleep monthly newsletter and qualify to win a product of your choice.