There are certain hurdles and problems in your parenting journey that seem insurmountable at times. Then you talk to another mom in your neighborhood, in line at the grocery store or in a parenting forum and she immediately has the answer you've been looking for! I'll walk you through step-by-step how to hire a mommy's helper. First, let's start with a definition.
A mommy's helper is
NOT a babysitter

.
A mommy's helper is a "tween" or teenager who you know and trust –  who can play with your children or help them with homework 
while you ARE at home

.

Got it? Next, let's go through how to hire one so you can be more productive at home while you're working, studying or completing a home project. Also, if you know someone who needs a mommy's helper, use the social tools above to share this advice on Facebook or Twitter.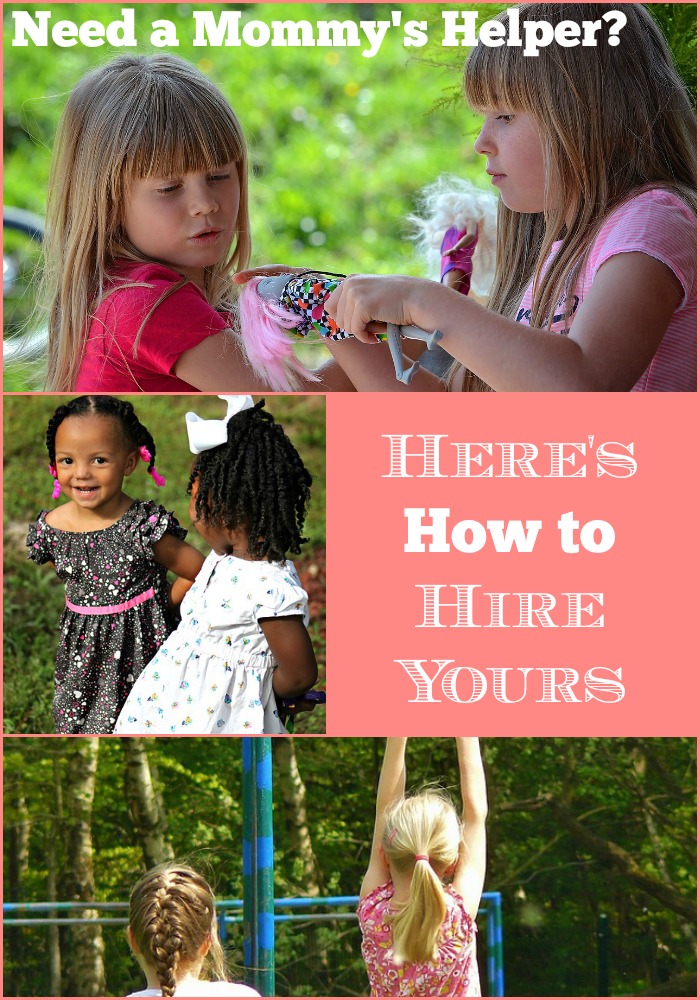 How to Hire a Mommy's Helper
Create clear duties and responsibilities. If you child's is 3-5 years old, you'd like a Mommy's Helper who's about 10 years old. Adjust it to be about 5-7 years older than your children. A Mommy's Helper duties could include a craft, help with homework or playing a game with your child. They should be old enough to know when a scenario would require an adult's attention vs. when to leave you alone and handle it themselves. I recommend keeping snacks that everyone can eat visible and easily accessible. This will also limit the amount of interruptions in case you're on a conference call or working on a project.
Set a budget. For a teenager or tween, you can start with $5 an hour pay as a mommy's helper. Or you may agree to a weekly fee for a set amount of time.
Post your ad for a Mommy's Helper.  Start in your neighborhood so it's feasible for the helper to get to your house. It's much easier if they can walk across the street or around the corner. Share your "Mommy's Helper for Hire" requirements in your local Facebook groups or on sites Nextdoor.com, it's like Facebook for your neighborhood. Also consider hiring the older siblings of your child's classmates.
Review applications. You can ask for applicants to write an email or essay on why they'd like to be considered, as well as ask for references from adults who know them well.
Interview/Meet & Greet.  Invite the candidates over for a play date with their parents, so you can all meet each other and see if you're a good fit. Their parents may have follow-up questions for you since their child will be at your home for a few hours a week.
Video: What is a Mommy's Helper?
Babysitting Swap
I have three babysitters in our family's rotation who can care for A.J. depending on our needs and their availability. I've also considered starting a babysitting swap with other parents we know and trust. Instead of paying for sitters we could swap time watching each other's children. Even with three sitters on standby, I find that sometimes their busy schedules get in the way too and I'd like the babysitting swap as a backup.
Comment below: Have you ever hired a mommy's helper? How did it work out? Did this post inspire you to get started on your search?