As 2014 comes to a close, I'm looking back and looking ahead thanks largely to some stories from female executives at the country's top companies and institutions. This week I got to hear them at The Little PINK Book Fall Luncheon thanks to the Everywhere Agency. The vendors and activities kept me thinking too. Keep reading to find your own New Year's inspiration from the 10th Annual Fall Empowerment Luncheon. This is something you'll want to share with your fellow mompreneurs.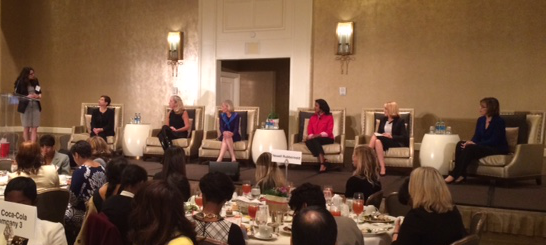 The panelists were pretty impressive:
Cheryl Bachelder, CEO of Popeyes
Carol Tomé, CFO The Home Depot
Erika James, Dean Goizueta School of Business at Emory University
Kate Gutman, SVP Worldwide Sales & Solutions for UPS
Jan Singer, CEO of Spanx
Pamela Joseph, Vice Chair US Bancorp
The Little PINK Book Fall Luncheon
Lesson #1: Health Comes First
Among the vendors at The Little PINK Book Fall Luncheon was Northside Hospital where a representative shared the importance of self-breast exams. I even got this sample and coupon for a breast ritual creme.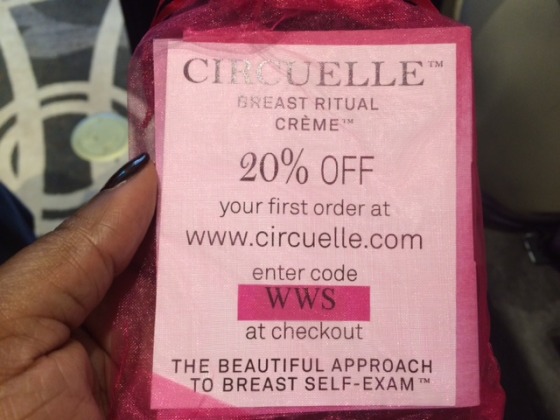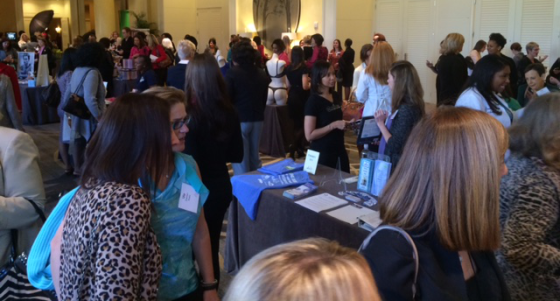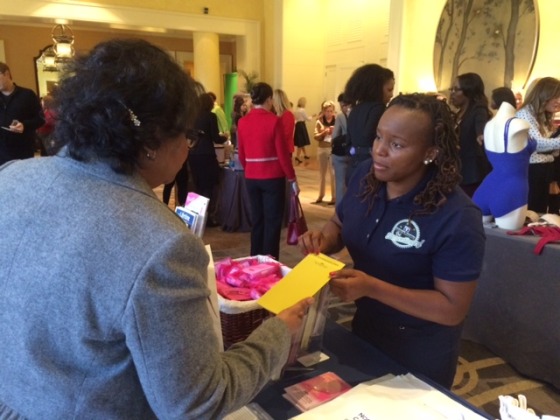 Health and business go hand in hand for moms. Even if you're a stay at home mom, your family is your full-time job. When we're not well, even for a cold or flu episode, our families are out of whack. Now that I'm 41, healthy screenings are even more important. This year, I had my first mammogram in about 10 years and now they'll be part of my annual health screenings.
I know it's easy to make excuses to skip medical appointments and make other things a priority. Please don't. Put yourself and your health first.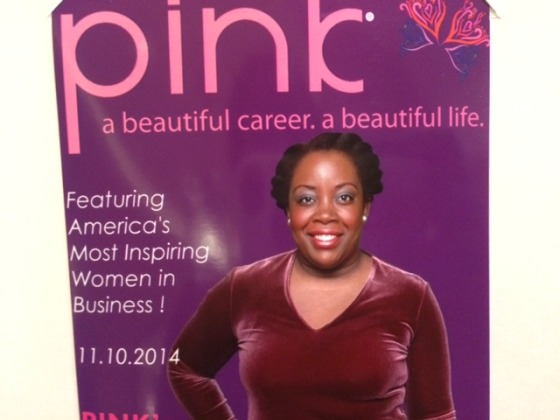 Lesson #2: You deserve to be on the cover of a magazine.
Your story, your journey, your triumphs are newsworthy. Tell someone about them. Own it. Celebrate it.
Thanks to the photo booth at the Little Pink Book Fall Luncheon, a professional photographer snapped this image of me and I got to keep a version of a "magazine cover."
Lesson #3: Find a mentor OR become a mentor.
Pamela Joseph from US Bancorp told the audience, "Sponsorship and mentorship go hand and hand. If you can find somebody who's willing to take a risk on you and guide your career, I think thats fantastic."
Erika James from Emory University added "All of us have a responsibility to make sure there is a robust pipeline. Part of the conversation today is not only how can we ascend to the ranks in business, but how do we make sure people coming up behind us also have those opportunities?"
You'll be shocked when you keep reading and see the stats below about women in leadership from the Catalyst Fortune 500 that I shared below.
About The Little PINK Book
The digital magazine created by Cynthia Good that's designed to empower and enlighten women in business. Sign up for The Little PINK Book's  weekly e-notes filled with engaging content. "Little PINK Book has donated more than $70,000 to nonprofits supporting women and girls and reaches women across the U.S. and in 126 foreign countries to help them create a beautiful career and a beautiful life." What do you think about this startling statistic I shared on the Mommy Talk Show Facebook Page?
Click to tweet:
Read @MommyTalkShow's Lessons from @LittlePinkBook Fall Event to Jump Start Your New Year #Pink10: http://t.co/owOTn7Icvn

— Joyce Brewer (@MommyTalkShow) November 14, 2014