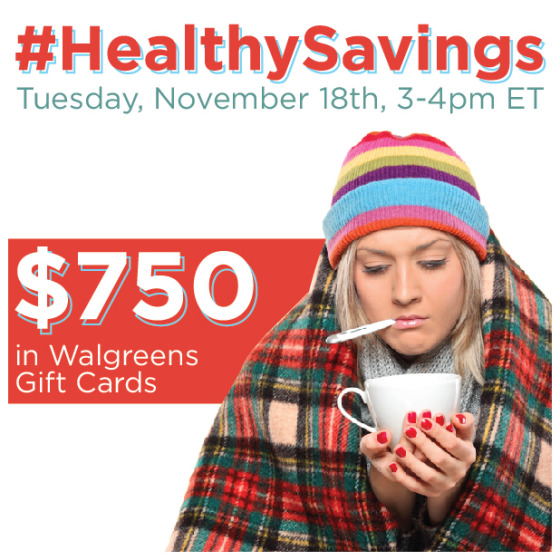 Do you love a good Twitter Party?  You know we do and we're excited to host a party about saving money on the cold & flu products you need at Walgreens! On Tuesday, November 18 at 3:00 pm ET, please join me for the #HealthySavings Twitter Party where we'll be discussing how you prepare for cold & flu season and giving you a chance to win prizes.
This morning, I got the dreaded phone call from the school nurse that our son was lethargic and coughing, so I went to pick him up early. Even though I do everything I can to keep him healthy, life happens. It's a reminder that I need to keep myself and my husband healthy too. Isn't it funny? Whenever you child starts with the sniffles, you end up getting a much worse version of it that has you out for the count!  By simply stocking up now at Walgreens, we can all avoid an additional headache for cold and flu season. Pfizer products like Emergen-C, Robitussin, Advil and Thermacare are just what you need to make it through aches, pains, sneezes and coughs. Don't forget the paperless coupons on the Walgreens app that  save you time and money because you're not clipping coupons. Would you like to learn even more about taking a proactive approach to cold and flu season? Join me at the #HealthySavings Twitter Party on November 18 where you'll have a chance to win one of eight Walgreens gift card prizes.
Join me and RSVP for the #HealthySavingsTwitter Party on SoFabChats!
DATE:  Tuesday, November 18, 2014
TIME:  3:00 to 4:00 pm ET
PRIZES:  7 – (1) $100 Walgreens Gift Cards
EARLY BIRD PRIZE:  1 – $50 Walgreens Gift Card
HOSTS:  @Freebies4Mom, @MommyTalkShow, @MoneywiseMoms, @littlemamajama, @thedomesticexec
RULES:  #HealthySavings Twitter Party Official Rules
RSVP & PARTY GRID:  #HealthySavings Twitter Party Page
PLEASE RETWEET:
Save big on cold & flu supplies! Join #HealthySavings Twitter Party 11/18 3pm ET. Prizes $750! Rules/RSVP: http://t.co/A7VA7danj0 #shop

— Joyce Brewer (@MommyTalkShow) November 12, 2014
How To Participate In A Twitter Party on SoFabChats!
TIP:  How to join a Twitter Party – sign in! Before party starts, click on the green "Sign In On Twitter" bar at the top of the page!
TIP: Who to follow at a Twitter Party? Follow the Party Team by clicking on the Twitter handle links on the RSVP page!
TIP: Want to win Twitter Party prizes? RSVP by clicking on RSVP button before you join the party, follow everyone on the Party Team, and tweet with the party hashtag during the party to be eligible!
TIP: How to win the Early Bird prize? Watch for chance to share a tweet when you RSVP for chance to win!
TIP: Special deals and brand coupons? Keep that options checked when you RSVP for the party!
TIP: New to Twitter parties? Watch your column and Party Team tweet columns – they are slower paced and easier to follow!
TIP: Where to find Twitter Parties? Check out the SoFabChats Twitter Party Calendar to find more fun parties to attend!
Find more helpful Twitter Party Tips on SoFabChats!