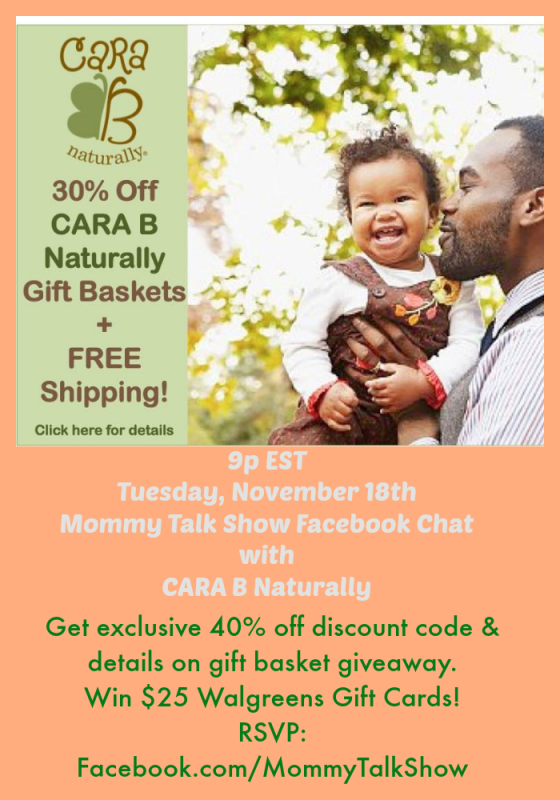 Mommy Talk Show is teaming up with CARA B Naturally this holiday season for an exclusive discount, a gift basket giveaway and an interactive sponsored Facebook Chat. Get ready to save on the natural skin and hair care line for babies and children. Plus, you'll be the first to know what's coming up in 2015 with the brand in an exclusive Facebook chat!
When I found out about CARA B Naturally products in 2011, I immediately became a fan. A.J. suffered from horrible eczema and we were constantly on the look out for something to soothe his skin. Now the CARA B Natural shampoo/body wash, hair mist and lotion are staples for us!
CARA B Naturally was created by a mom, Landra Booker Johnson, who wanted something chemical-free to use on her children. She teamed up with her sister, Kristi Booker, to create a top-selling product line that's loved by celebrities and certified by the National Products Association. You can watch my one-on-one video interview with Landra in Atlanta.
CARA B Naturally has five products for your family to use: shampoo/body wash, leave-in conditioner/moisturizer, baby bar soap bundle, moisturizing hair mist and body lotion. You can find them all (except the bar soap bundle) in the specially designed gift basket (value: $60) that's a great holiday or baby shower present for an expectant mom, biracial and multiracial families, or families looking for solutions to styling their children's hair.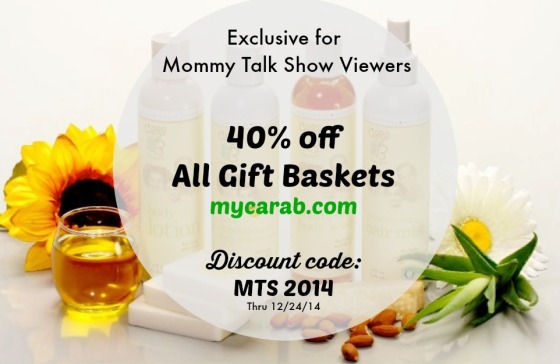 CARA B Naturally Holiday Sale
CARA B Naturally wants Mommy Talk Show viewers to save with an exclusive code and FREE SHIPPING on holiday gift basket purchases now through December 24, 2014 with the code: MTS 2014
Add the gift basket to your shopping cart at mycarab.com, you'll see a 30% off savings, then add the discount code MTS 2014 to save an additional 10%! Here's what it will look like:


CARA B Naturally Giveaway
Any Cara B Naturally Gift Basket purchase by December 24, 2014 automatically qualifies you to win one (1) basket that will be delivered to you in January 2015.
Facebook Chat
Join us Tuesday, November 18th at 9p EST on the Mommy Talk Show Facebook page for an interactive conversation with one of the CARA B Naturally founders, Kristi Booker. We're giving away two (2) $25 Walgreens gift cards using Random.org.
How do you participate?
RSVP in the Mommy Talk Show Facebook Event
You'll get an alert when the Facebook Chat is live Monday at 9p EST on the Mommy Talk Show Facebook Page.
Click the link to the chat to join in, ask questions, refresh the Mommy Talk Show Facebook page to stay engaged and see the latest Q&A.
Get social and invite your friends to the Facebook chat!
Click to tweet: "I RSVP'd for @CaraBNaturally @MommyTalkShow Facebook Chat 11/18 at 9p ET. 40% off promo + Walgreens prizes: http://bit.ly/2014CARABNaturally"
Click to share on Facebook: Exclusive Savings on Cara B Natural Gift Baskets & 11/18 Facebook Chat!
During the Facebook chat you're welcome to ask about
Celebrities who love Cara B Naturally Products
The PLEDGE
New Cara B Naturally Products
Styling and skin care advice
Where can you buy Cara B Naturally Products?
Walgreens stores (Walgreens.com), Target.com, drugstore.com and the Cara B Natural Site (mycarab.com). Keep in mind the 40% off savings for the gift basket is ONLY available on mycarab.com with the code: MTS 2014 and it expires December 24, 2014.