One of the biggest investments new parents will make is buying a crib. Aside from being in your arms, a crib is where they'll spend most of their time. As we get ready to convert A.J.'s crib to a toddler bed, I thought I'd share this opportunity to win a Young America Fanfare crib worth $849 from Layla Grayce. Keep in mind, the giveaway doesn't end until January 2014, so if you're expecting then –  this would be a great giveaway to enter.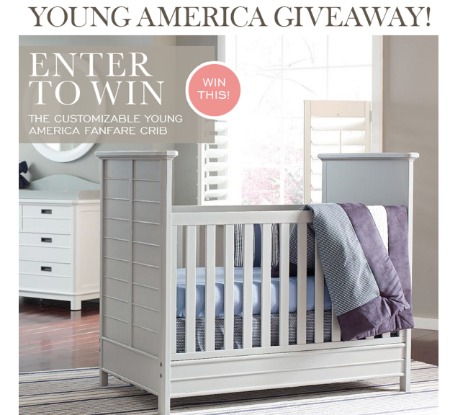 Young America Fanfare Crib
Young America was a new brand to me, so I wanted to share a little background. "Made in the USA, each bed, dresser, crib, armoire, and more features custom colors and finishes so you can design as you please, and all Young America cribs have Intertek Certification which means they passed top safety tests." Considering all the safety warnings about cribs and recalls, this is comforting.
Enter the Young American Fanfare Crib Giveaway by January 14 , 2014. A Facebook profile is necessary to enter the giveaway. You're welcome to share this opportunity on Facebook, Twitter and Pinterest by using the social sharing tools below.
Young America Furniture
I'm not sure how long the toddler bed will do the trick for A.J., so I started looking around at the other Young America furniture.
Next year when we move, I was thinking about this Young America myHaven Bunk Bed for his room. It would be great for him to lounge around, read books and have a friend over for a sleepover.
Check out the rest of the Young America line. Is there anything that stands out as a fit for your child's bedroom.
Disclosure: This post includes affiliate links.