I've been a dedicated Kroger shopper since I discovered the grocery store in 2002 when I moved to Mississippi. Now that I'm a wife and mom in Atlanta, I'm shopping at Kroger even more to feed my family. Between lower prices than other local grocery stores, digital coupons, Best-Customer reward coupons I get in the mail, as well as Kroger fuel points where I can earn money off at the gas pimp – I will continue to be a devotee. For every 100 dollars spent on qualifying purchases you earn 10 cents off per gallon. This month I reached a major milestone: 1,100 fuel points that allowed me to take $1.00 off per gallon. I paid less than $2.70 per gallon at the pump. I'll walk you through it step-by-step for Kroger Plus card holders.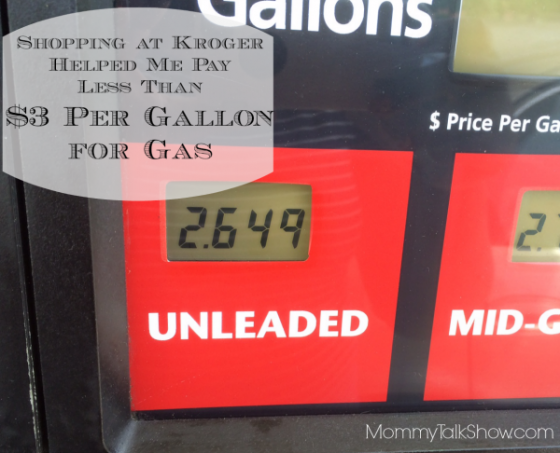 4x Fuel Points 
Earlier in June, Kroger ran a promotion to earn 4x the fuel points on restaurant and other gift card purchase when you use your Kroger Plus card. I bought a few Fandango and Starbucks gift cards for friends and family.  One $20 Starbucks card purchases at Kroger earned me 80 points!
Quick tip for Starbucks Rewards card holders: buy a Starbucks gift card from Kroger then add it to you rewards card inside the coffee shop.
Your purchase earns you fuel points AND the ability to earn free beverages/food from Starbucks.
The 4x fuel points program ended in mid-June, but I've seen similar Kroger fuel point programs around holidays like Valentine's Day and Christmas, so stock up then!
Double Fuel Points
Through July 27, 2014 earn double fuel points on your Kroger purchases on Friday, Saturday or Sunday.  I shopped those days exclusively to earn more points.  Even if I needed an ingredient, food and cleaning products that day, I wrote it on the shopping list on the fridge and waited for the double fuel point days. This really boosted my earning potential since each week I spend $50-$80 on groceries. My patience paid off and I earned 100-160 fuel points for every shopping trip, which is at least 10 cents off per gallon.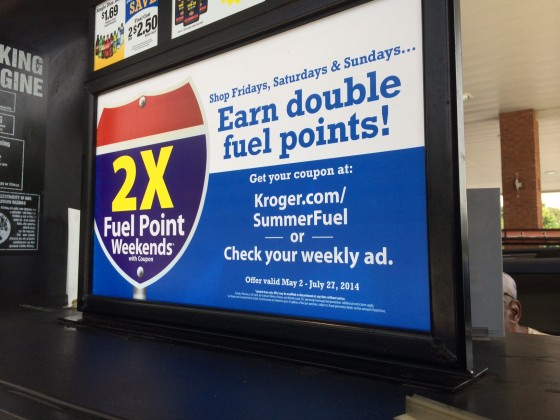 Receipt Surveys
You know those shopping surveys on your Kroger receipts that you probably throw away? Well I fill them out at KrogerFeedback.com because I can earn 50 fuel points for each one I complete every seven days.
Four shopping receipt surveys per month  x 50 fuel points = 200 fuel points!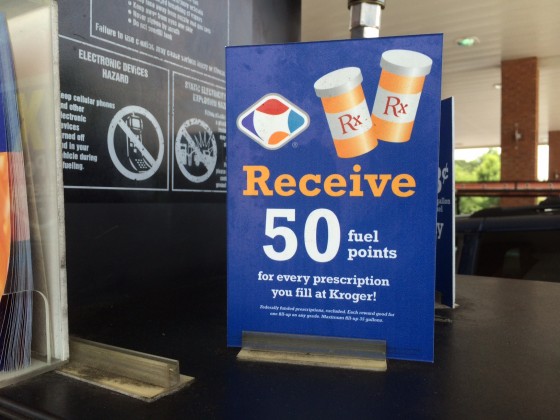 Filled Prescriptions 
Even the prescriptions that didn't cost me anything like my birth control pills (thanks to Obamacare) along with the free EpiPen coupon for A.J., earned me 50 points each. That's 100 fuel points in one month.
In all,  earned 1,150 Kroger fuel points in June and redeemed than for  $1.00 off  per gallon my July fuel purchase.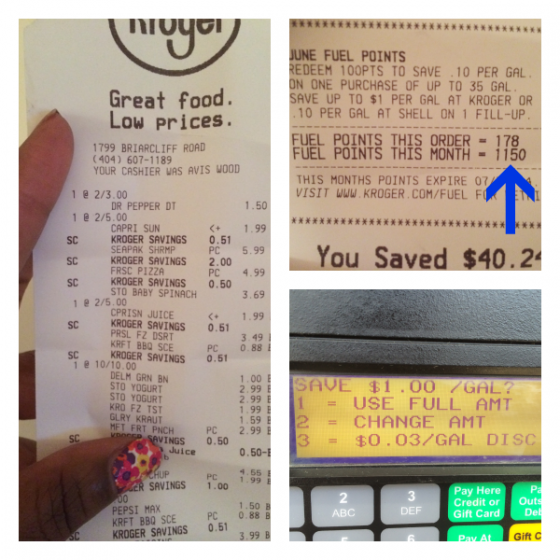 If you'd like to earn more Kroger fuel points to save up to $1.00 per gallon at the pump, remember to:
– Buy gift cards to your favorite stores at Kroger, then use them like cash.
– Shop on double fuel point days.
– Complete your store receipt survey online.
– Fill prescriptions at Kroger.
NOTE:  Kroger did not sponsor this post or ask me to share my experience. I did not receive a gift card to shop. I paid for everything: food,  gift cards and fuel with my own money. I know that a lot of us are trying to save money this summer for vacation and summer camp costs, so I wanted to show you my experience. I'm also sharing advice every Monday on the Summer Survival Series like the free Babysitter Emergency List printable I presented this week.
You may recall I was invited to an in-store event when Kroger shared  plans to eliminate double coupons and pledged to lower prices overall. While I still miss double coupons terribly, I've found that sticking with one grocery store vs. hopping around has made a difference for me. I usually pay almost $60 to fill my tank and thanks to Kroger fuel points, I paid just $41.
Talk back to me in the comments: Are you devoted to one grocery store or do you hop around? How would paying less than $3 a gallon for has help you family?