Update: Hear my 5 lessons learned from my @Groupon refund experience.
3:30PM EST Received an e-mail from Groupon that my refund is being processed. $29 has been refunded to my Groupon Bucks account.
2:29PM EST After sending a message via the Groupon.com support tab Saturday, I just sent this e-mail directly to [email protected]:
"I'm following up on the message I sent via the Customer Support Tab on Groupon.com Saturday. I had an issue with Posh Nails Spa limiting appointments for Groupon redemptions, so I would like a refund. I shared the ordeal on my blog: http://bit.ly/J4odfZ." @Groupon on Twitter has been very responsive and suggested I follow-up with this e-mail. Thank you."
My issue with Groupon & Posh Nails Spa in Buckhead
I'm waiting to hear back from Groupon after I requested a refund on a manicure/pedicure offer. I tried to redeem it Saturday, but ran into an issue with Posh Nails Spa in Buckhead. Read & watch the whole story, then tell me: do you think I deserve a refund?
You're about to see
– Unedited video of my experience at Posh Nails Spa (Part I) in Buckhead on Saturday, April 14th after two phone calls to make an appointment, then I dropped in to see if they were busy.
– Unedited interview (Part II) with a customer who overheard my conversation with the spa staff and was so appalled that she walked out.
– The fine print of the Groupon offer from Posh Nails Spa, so you can decide for yourself if they tried to change the rules.
– My recommendations for Groupon and any businesses who offer the discount deals.
Watch Part I of me trying to redeem my Groupon
Watch Part II with a customer who walked out too
My recommendations for Groupon and businesses
I wouldn't have bought this Groupon deal for a nail salon if I knew it was going to be such a hassle to redeem it on a Saturday or Sunday. Ladies, isn't that when most of us want to get our nails done? 
Groupon: Ask business owners if there are certain dates, times and staff who can redeem offers. Include that in the offer guidelines.

Businesses: Clearly spell out the way you want discount deals redeemed. Double check that it's described that way on the offer customers can print out. See the image below for the fine print of the offer from Posh Nails spa. Do you think it matches what the spa manager told me?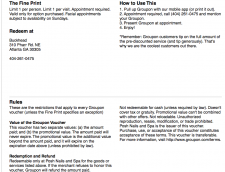 I understand you may get overwhelmed with customers who are paying half-price (or less) and you would rather pay attention to your full-price paying clients. But by offering a deal, you're getting access to a new audience who may become repeat customers if you treat them well.
This is my first unfortunate experience with Groupon. I've purchased Groupon deals for Gymboree classes for A.J., which I extended beyond the limited time offer. I also bought a deal for a facial, then went back to the spa twice and paid full price before the service was great.
After this, I'm taking advice from my friend. She only buys discount deals from local businesses she's used before and national brands.