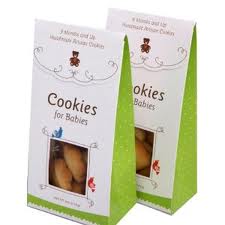 I can honestly say Cookies for Babies was the first and only cookie I ever allow A.J. to eat….Watch A.J. taste them and watch an Atlanta mom taste them for the first time.
After meeting the creator Elizabeth Gaubeka and hearing how she created these all-natural cookies for her daughter, I gave
Cookies for Babies
a try. Now I hunt them down when I shop at Whole Foods. Not just so A.J. can eat them, but so I can gobble them down while I sip my tea or coffee.
For families focused on healthy eating, you'll be amazed that these cookies are made with just four ingredients, contain no preservatives and are baked right here in Atlanta.
Now you can enjoy Cookies for Babies thanks to this giveaway:
Four (4) hungry winners will each get six (6) Grab N' Go packages of Cookies for Babies mailed to their home.
Entry deadline: Wednesday, August 10th by 8 p.m. EST
Winners will be chosen randomly and posted here.
Increase your chances of winning by using all 10 entry possibilities. The mandatory entry is REQUIRED.
Disclaimer: Mommy Talk Show was provided complimentary packages of Cookies for Babies for this giveaway.