Going Vegetarian
I decided to challenge myself to a full week of vegetarian meals and the staff at Return to Eden Organic Market in Atlanta was happy to help me choose some tasty foods for our family. Don't forget the exclusive coupon for Atlanta families looking for organic, vegetarian and gluten-free foods. Print it or display it on your phone at check-out to save by August 31, 2012.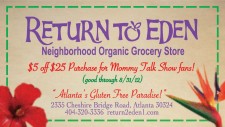 My shocking weigh-in is below. But first, here's a quick look at my vegetarian shopping experience:
Keep up with my vegetarian meals on 
Facebook
this week. 
What are your favorite meat-less recipes? 
Comment below!
Weigh-in
After catching A.J.'s cold, coping with his overnight wheezing and a last-minute pediatrician visit –  I was not very focused on hitting the gym (I worked out twice) or eating balanced meals. I've been exhausted and focused on staying hydrated instead of eating. It's not the ideal way to lose weight.
So how close am I to my goal of losing 10 pounds by August 3rd?
I was 209.8 pounds when Fitness Friday started in June…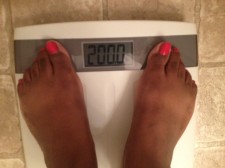 I've lost 9.8 pounds since June!
I can't wait to see how eating vegetarian and getting over this cold helps me this week.
Disclaimer: This post is sponsored by Return to Eden Organic Market at 2335 Cheshire Bridge Road in Atlanta.
All thoughts and opinions are my own.
Use the social sharing tools below to spread the word & share this $5 off coupon
with Atlanta friends and family who'd like to live a healthy lifestyle.