As the parents of a two year old who most of our family and friends call "advanced," we cherish our time learning and exploring with our son.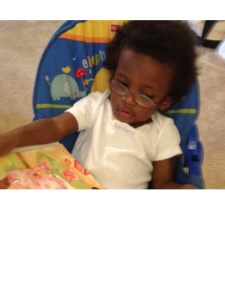 A.J. can read about 20 words by sight and is constantly asking me "What's that say, Mommy?" He's also learning his ABC's in French and if he's in the mood will count to 10 in Spanish or French. I've had doctors, nurses and strangers ask if he's three or even four years old.
My husband and I have been wondering what type of school we'll enroll him in. Public, private or even home-schooling have been on the table. Since my husband and I both attended public school (in Jackson, Mississippi and North Babylon, New York, respectively) we'd love for A.J. to have a similar experience. But with the Atlanta public school cheating scandal and budget cuts in Dekalb county where we live, we've got some tough choices to make in less than three years when A.J. starts kindergarten.
Sorry it's taking me so long to get to the book review, but I wanted you to get an idea of where my mind was when I read Mission Possible: How the Secrets of the Success Academies Can Work In Any School. I admit I've heard a lot about public charter schools, but this book has inspired me to do more research on my own.
Did you know there's a Georgia Charter Schools Association with a list of resources and charter schools?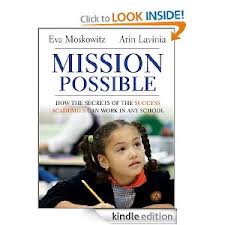 Before I read, Mission Impossible I was looking for inspiration and hope that my child doesn't have to attend a lackluster school system. I wanted to know there are schools where students are challenged intellectually. That's what former New York City councilwoman Eva Moskowitz and her co-author Arin Lavinia, who developed THINK Literacy, give me and any parents who read their book. Visit the Success Academies website to learn about the amazing New York charter schools Moskowitz founded and learn more about the Mission Possible book.
What I'd Love for A.J. to attend a Success Academy or similar school
Students are called scholars and read a tremendous amount of books. By third grade, they spending about 90 minutes a day reading in class.
Teachers get 13 weeks of training per school year and shorter school breaks, so they're working very hard.
School principals guide instruction and coach teachers, instead of focusing on teacher contracts and building maintenance. Those tasks are left to the school's business manager who's under the direction of the school principal.
High school graduation rates are astounding compared to standard public schools. Scholars are taught

they will attend college

and even graduate school.
A Scholar's Day at Success Academy
Success Academy was also featured in
The Lottery
 and  
Waiting for Superman
documentaries as a top-performing public charter school.
Enter to win a copy of Mission Possible
Disclaimer: I received a copy of Mission Impossible: How the Secrets of the
Success Academies Can Work in Any School 
to review and giveaway, along with additional compensation. All thoughts & opinions are my own.