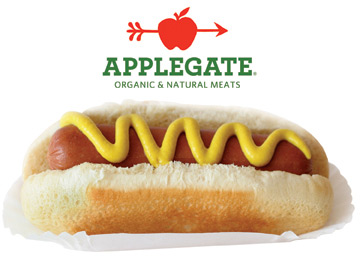 My 2 year old son, A.J., would eat a hot dog for every meal of the day if we let him. But that's simply not healthy or a great way to vary his good choices. Instead, we let him eat them at least once a week. He's only 27 pounds, so we've got to keep the weight on. A.J.'s a purist when it comes to his hot dogs. No buns necessary, just grill it, slice it and he's a happy camper. Keep reading for his experience and summertime grilling tips!
The next time I head to the grocery store I'll be looking for the Applegate Farms brand now available in Atlanta-area stores. Applegate Farms prides itself in offering antibiotic and nitrite-free beef hot dogs. Have you seen the new TV commercials?
What's in your hotdog? Mooscles?
Health & Hot Dogs
The Applegate Farms commercials are definitely giggle-worthy, but hormones in our foods are really no laughing matter.
A.J.'s also got his share of food allergies (cow's milk, soy, fish, shrimp, chocolate, peanuts, cashews and almonds) so knowing the Applegate Brand uses organic and all-natural products is a relief to me. As parents we are always looking for healthy alternatives to the foods I children crave. It makes me feel better knowing Applegate Farms cows eat a vegetarian diet and they're given plenty of space and fresh air to enjoy.
Like Applegate Farms on Facebook
Click the product locator tab on the Applegate Farms Facebook page to find a store near you that sells their products.
Grab a money-saving coupon there too.

Simple Grilling Tips
My husband is the griller in our family. I put in my order Saturday morning so he knows what to pick up at the store and put on the grill for the weekend. He doesn't eat beef. But I love his steaks and pork chops on the grill.  Since I'm more of a supporter than a real griller, I'll share some simple grilling tips that work for our family.
Plan ahead
Tell the griller in your family what foods you like best. Check for sales and coupons so you can make your grocery store trips easy, efficient and affordable.
Keep safety items close by
Although you may want to reach for a towel if there's a grill emergency, using one could simply fan the flames. Keep a fire extinguisher nearby any time you fire up the grill.
Ask for help
Four eyes are always better than two. If you need to leave the grill for any reason or will be distracted, ask someone else to keep an eye on it for you.
Sauces & vegetables
BBQ sauce and other marinades can give your grilling experience some zing!
Grill vegetables too. Peppers, squash and even cherry tomatoes do well on a skewer.
Share these tips on Pinterest
I created a Pinterest Board for these Summertime Grilling Tips for you to repin and share.
Disclaimer: I wrote this blog post while participating in the SocialMoms and Applegate blogging program, to earn My SocialMoms Rewards Points. The opinions and ideas expressed here are my own. To read more posts on this topic, click here.