This shop has been compensated by Collective Bias, Inc. and its advertiser. All opinions are mine alone. #FreeToBe #CollectiveBias
As soon as the school year started, our son was anxiously awaiting an opportunity to join the Cub Scouts. Like most six-year-old boys, he loves being outdoors to ride his bike and play basketball. With Cub Scouts there are countless outdoor experiences where boys can learn life skills. Here's a list of what you'll need for a family hike in your area or on vacation. Then I'll share some insight on what to do post-hike, especially if your loved on has sensitive skin like me, my husband and son.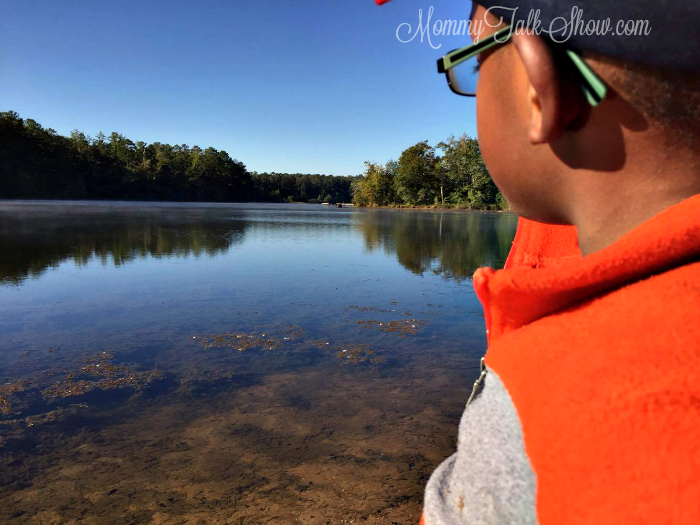 Must-Haves for a Family Hike
Binoculars
We use binoculars everywhere – in the car, around the house. Maybe because A.J. is far-sighted, he's used to seeing things for away. When you're taking a family hike especially in a new area, bring your binoculars. I use my set to look for birds and squirrels.
Map
Download or print a map of the area you plan to explore. I usually have a good sense of direction, but a map always helps. Also, upload a few new mapping apps to your smartphone as a backup.
Compass
Speaking of direction, bring a compass along with you for the ideal sense of direction.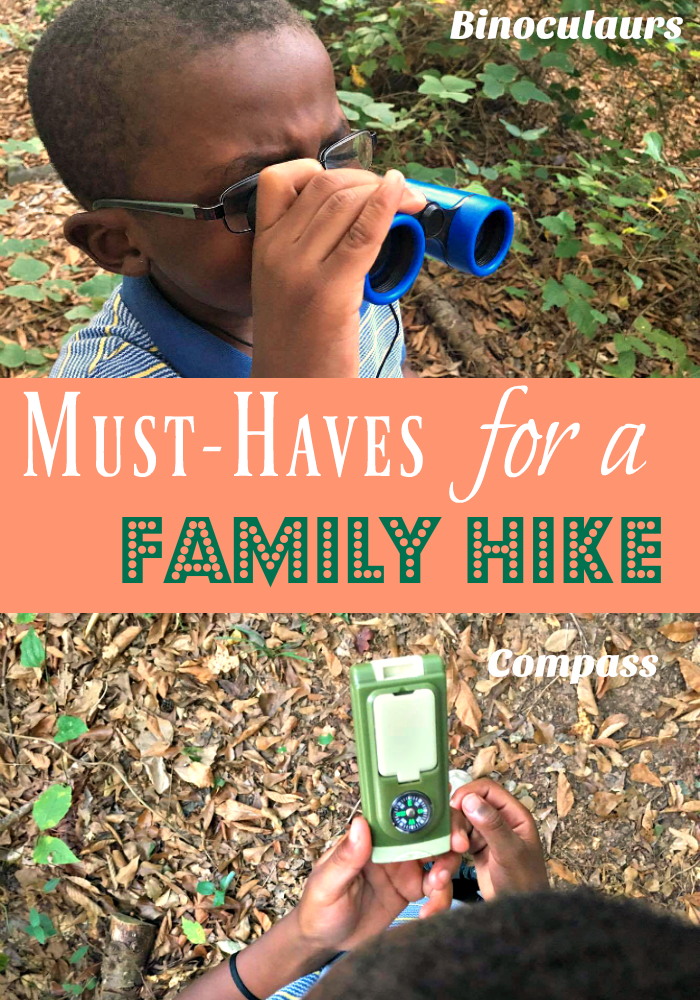 Flashlight
If there's any chance your family hike will linger close to sunset, bring a flashlight to see your way. An extra set of batteries won't hurt either.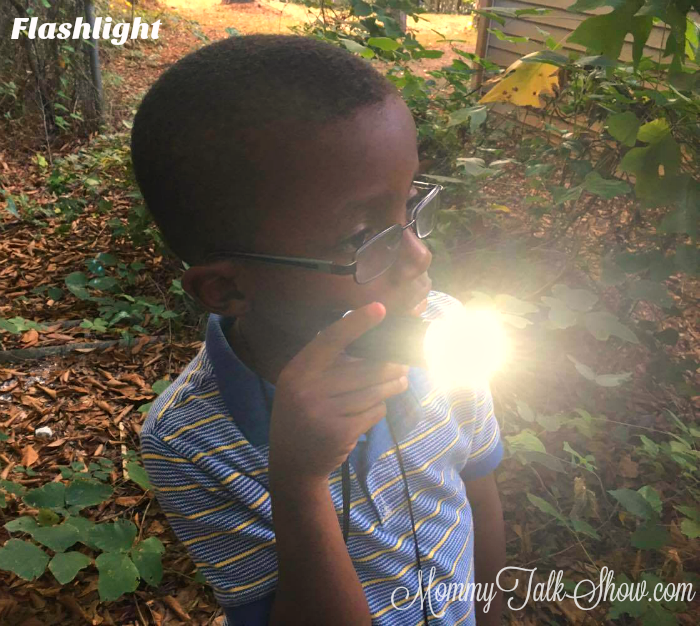 Chargers/Batteries
I know this isn't exactly "roughing" it to take a lot of tech on a hike, but if you have it – use it. I keep my iPhone charger and spare batteries in my bag just in case I'm away from an outlet or my phone charger.
Whistle
In case of an emergency, having a whistle can alert authorities to your location.
Water
At least one bottle of water per person per hike is a good marker. But if you know you're hiking for a longer period of time, bring more water.
Snacks
Protein packed snacks are best for a hike to keep you energized. Granola, nuts (as long as their are no allergies) and even cheese sticks can travel pretty well on a short hike.
First Aid
I'm the Mom who always has bandaids and wipes in her purse. It's come in handy even on the playground when a child has gotten a bump or bruise. So imagine how useful a first aid kit can be when you're tackling trails, creeks and terrain on a family hike.
What to do Post-Family Hike
After spending so much time outdoors as a family with dry skin and eczema, our sensitive skin needs attention. As soon as A.J. and my husband returned from a week camping trip with our pack, I washed their clothes in all® free clear liquid detergent. Then dried them with all® free clear dryer sheets to reduce static and help make their clothing even more comfortable to wear. Did you know that all® free clear detergent is the top brand recommended by dermatologists, allergists, and pediatricians for sensitive skin? Follow the directions on all® free clear products according to your washing machine and dryer.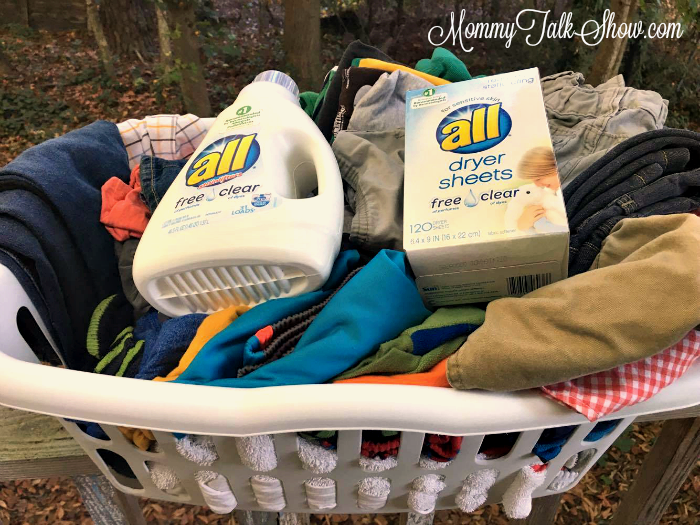 As if being outside for several hours wasn't enough, my guys were also fire captains for the trip. They were in charge of monitoring the fire and helping to cook meals. A.J.'s seasonal allergies can exacerbate his asthma too. It was a relief to know that all® free clear detergent can wash away 99% of everyday allergens like pollen.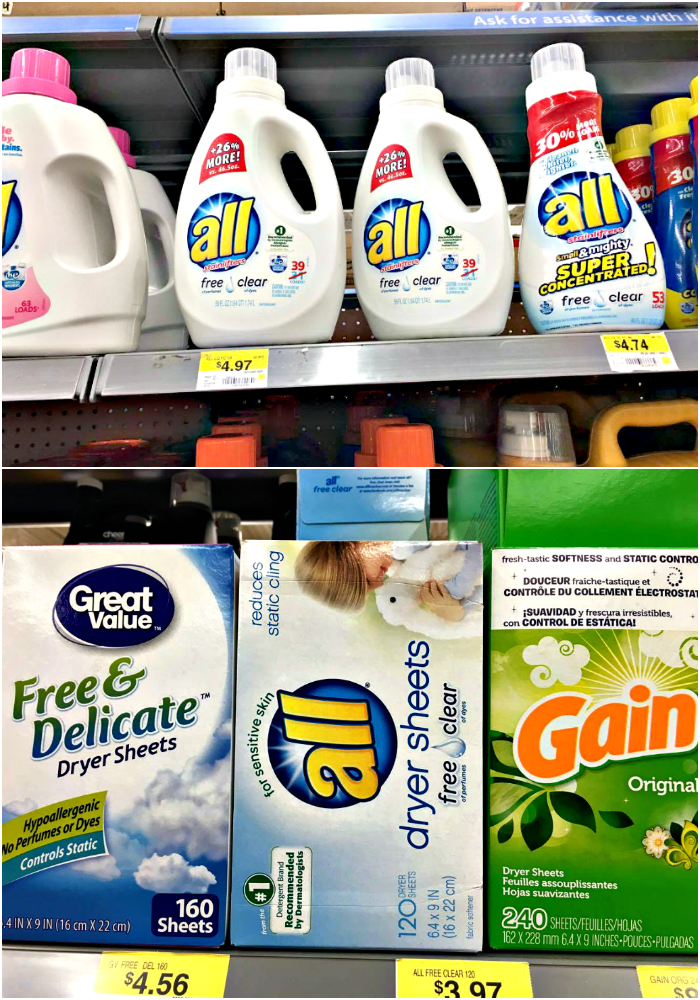 I found detergent on the top shelf of the detergent aisle at Walmart, while the fabric sheets were on the adjacent aisle.
Comment below: Have you tried all® free clear detergent then dried them with all® free clear dryer sheets for your family's sensitive skin?
My husband has eczema, our son outgrew his skin condition and now I have it. It's interesting how each of us suffer at different times and under different conditions. I've found that when I spend more time outdoors my skin is drier than usual and I suffer from itching.
Continue the conversation over on the all® free clear community page for even more insight on how to cope with your family's sensitive skin. Learn why all® Free Clear softener received the Seal of Acceptance by the National Eczema Association.