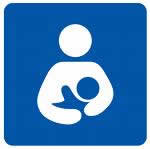 Imagine traveling through the Hartsfield-Jackson Atlanta International Airport and being able to breastfeed your child or pump your breast milk in a private, quiet, clean, family-friendly room.
Using the tools on Public Square Atlanta, supporters like my friend Sojourner Marable Grimmett are working to bring designated lactation rooms in each terminal of the airport in the future.
Since I'm still nursing A.J. at 17 months I can proudly say I stand by this effort and support Public Square.
Watch Sojourner talk about the effort to work with the Atlanta airport to create lactation rooms for families.