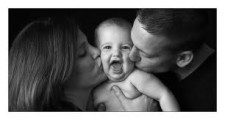 Bill Withers' song really says it all: "Just the two of us. We can make it if we try. Just the two of us. You and I."
Sounds lovely and perfect. But Bill stopped at two and didn't dare add a lyric about "When there's three of us." Honestly, that's when things get complicated. Once you become parents and there's a third, screaming, wet, demanding newborn in the relationship – all bets are off. Date nights are a thing of the past (at least for awhile) and you're often too exhausted to share much "intimate" time together.
Which leads me to location sponsor Laurie Morrison's question for the mommy guests: How has motherhood changed your marriage? Just thinking how to answer that question makes me cringe. Motherhood, the pain, the stretch marks and lack of sleep have had the deepest effect on my marriage. A.J. is our "honeymoon baby." We were married about two months when I found out I was pregnant.
Here's how Felicia Walton of Sassie Babies embroidery and maternity product inventor Michele McDonald (@wefit2029) answer in Part I. Check back Friday for Part II when me and Laurie Morrison offer our responses.
Comment below the video to answer: How has motherhood changed your marriage?
Meet the moms:
Laurie Morrison, Creator of Main Street School of Art (watch her video profile)
Michelle McDonald, Inventor of maternity clothing products; follow @wefit2029
Felicia Walton, Sassie Babies embroidered & monogrammed accessories
This webisode was taped on-location at the Main Street School of Art in Downtown Tucker. It offers art classes for home schooled students, mommy and me, summer camps and birthday parties. Visit MainStreetSchoolofArt.com for a class schedule & tuition.