As a work at home mom, my fashion choices lately have been horrible. Unless I have a meeting to attend, jogging suits, leggings and yoga pants are my go tos. I don't mind if they get dirty and the elastic band waistlines are very forgiving. But this month I had the chance to shop at Muse Boutique in Merchant's Walk with a group of fellow Atlanta mom bloggers. The dress I bought there made my husband say, "Where are you going dressed like that?" He liked it. A lot.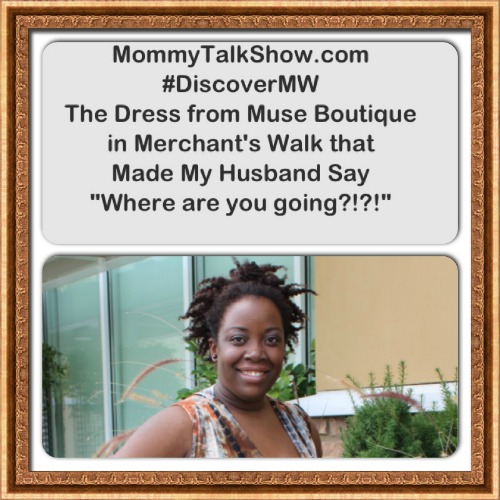 At first, the thought of shopping at a boutique was a bit intimidating. Depending on the day, I can wear a size 12 to a 16 and I wasn't sure the boutiques would carry my size. So I decided to buy a new dress and called around to the Merchant's Walk boutiques, explained my concerns to the clerks who answered the phones. I decided to stop at Muse Boutique when I had about 40 minutes to shop at the East Cobb shopping center.
Muse Boutique's owner, Sascha, was very attentive and helped me pick out three possible dresses. Take a look at the photo I shared on Instagram:
A lot of my followers on Instagram said they liked the black dress best. But since I have a similar one in my closet, I decided that the best fit for me was a multi-color dress by designer Veronica M.
Fashion Finds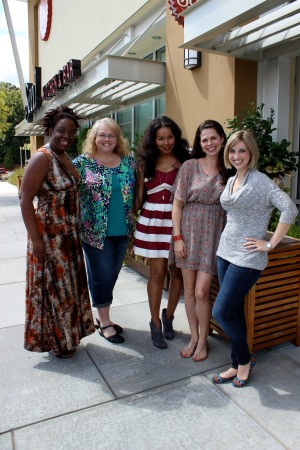 Four other Atlanta mom bloggers had a similar shopping experience at Merchant's Walk checking out the boutiques: The Baby Shopaholic,  Redhead Baby Mama, Uncoordinated Mommy and In the Kitchen with KP. We all wore our new outfits to brunch. Each of us found something that fit our style and you can tell from the smiles on our faces that we felt special!
Comment below: Have you shopped at Merchant's Walk boutiques and stores? What do you think are the advantages of shopping locally vs. chain stores or  online?
Sunday Brunch at Seed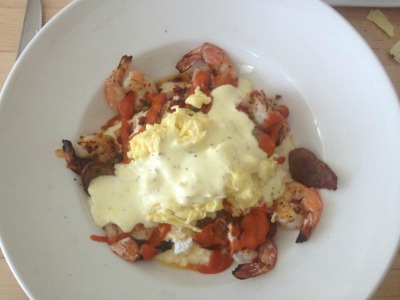 We each wore our outfits purchased from Merchants Walk when we met for Sunday Brunch at Seed restaurant (@eatatseed). Brunch was amazing. I ordered shrimp and grits.
I switched up the way it's prepared, just a bit. On the menu, it comes with a poached egg. But since they're not my favorite, I ordered it with a scrambled egg with cheese.
I loved it and will definitely order it again. The portion size was great for brunch too. It filled me up.
Merchant's Walk Gift Card
Discover Merchants Walk for yourself with a $50 American Express Gift Card.  You're welcome to enter the giveaway below by October 14, 2013.
a Rafflecopter giveaway
Disclosure: I received a Merchant's Walk gift card to shop and share my honest opinion.